In this post you'll learn:
How to structure your location pages
How to optimize your Google Business listings
The best interlinking strategy for local landing pages
How to get citations and how many you need
How to easily boost your EAT
When to make city landing pages
And more!
Does your business have multiple locations or operate in multiple cities? Do you want to get all the leads by outranking all your competitors? Then you've come to the right place. In this post, I'll show you exactly how to structure and optimize your local SEO strategy for multiple locations.
I wrote this guide based on my experience helping a bunch of multi-location brands over the past 9 years. I've seen these strategies below work for companies with one location and a service area of several nearby cities, and I've also seen these strategies work for companies with 400 locations across the country. I've seen countless companies go from hardly ranking to getting hundreds of leads a month with these strategies. So read on!
Here are some stats for you to understand the importance of doing SEO right for multiple locations:
Jump In:
skip to a specific section of this page by clicking on the links below.
1. Have a dedicated and optimized location page for every location
You should have a dedicated page on your main website for every physical location your business has. You only want to use one of these pages if you have an actual physical location in the same city. If you don't, you'll want to do a city landing page instead. I'll cover city landing pages later on in this guide.
SEO location pages should be highly optimized, which means they should have a significant effort put into each page. These aren't "set it and forget it" pages. They should look a lot like contact pages, link to specific service pages, and have signals that highlight their importance by adding internal links, citations, and links from other local websites. You can read my full guide on optimizing location pages for SEO here, read on for a summarized version:
Optimizing your location pages
A highly optimized location page should be useful and informative. It should also be set up to target your main keyword topic. For example, if you're a disability lawyer, instead of the title tag being something like "Edmonton Location", go for a juicy local keyword like "Edmonton Disability Lawyers".
You also want to have all of the essential information on there like your address, phone number, hours, a contact form, a map, a paragraph or two about the location, and content to help you rank for your main keyword.
Some key things to include are:
City name placed early in title and meta description.
City name in H1 (page title).
Local business schema w/ ratings.
concise URL structure e.g. "website.ca/locations/edmonton/" or "website.ca/locations/ab/edmonton".
Services that are available at this location with a paragraph for each service (linking to your service pages).
LSI keywords and similar variants e.g. "Lawyers for work injuries in Edmonton".
Accurate information that exactly matches your Google Business listing and citations.
Make it like a hybrid contact page
A good location page looks like a service page had a baby with a contact page. Here's an example of a great location page: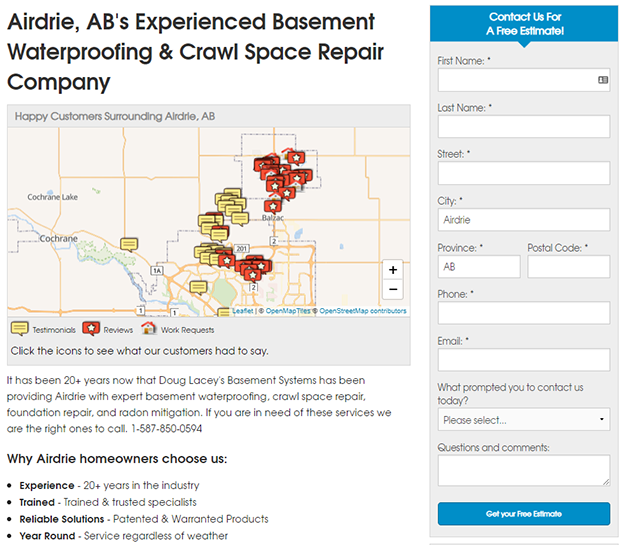 I like this page because it has:
Prominent keyword usage in the title
A contact form above the fold
Benefits of choosing the company
Having prominent contact information and placing your form at the top will help improve conversion rates. The benefits of working with your company should also stand out. Users should be able to get all the information they need on this page. It shouldn't be a requirement for a user to browse other pages on your website to get answers and information.
Bonus things to add:
A review widget that shows verifiable reviews from third parties like Google, Facebook, etc.
Images of your location like staff members, your office, and people at work. (Don't forget to add good image titles and alt tags!)
Before & after pictures or links to relevant case studies
Link to and mention your services available at that location
List each service you offer in this location and link to your service page for each service. Yes, It's ok if all of your services are available. List them and link them! Ideally, you can also include a paragraph of unique text for each service too. This way Google and other search engines can easily understand that you're a local business offering a suite of services in that city.
The page should be targeting your main local keyword. Later on in this guide, I'll share some information on how to create city landing pages to go after secondary keywords. For example, if you're a disability lawyer but you also want to rank for medical malpractice law, then you can create a separate city landing page for that.
But how do you decide which keyword should be the main one, and which ones should be secondary, or what if you want to try and rank for both on one page? Here's how to decide.
Step 1: Pull up a local search tool like Isearchfrom.com, (this way you won't get personalized search results) and enter your city and main keyword. I'd recommend mobile for the device as most people search for mobile devices for local searches.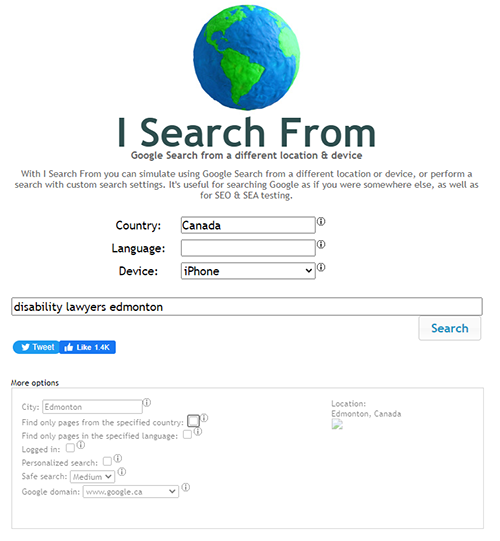 Step 2: Review the search results, are your competitors using your main keyword in their map pack names? (Their Google Business title) Are they using the main keyword as the title for their Organic search results too? If you're seeing competing search results with pages optimized purely for your main keyword, you likely won't be able to rank for multiple focus keywords with one page.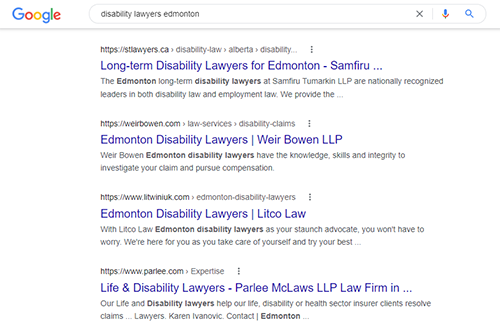 Step 3: Decide whether or not you can get away with multiple target keywords. Note in the image above that the top 3 organic results are only using variations of "Edmonton Disability Lawyers". This is a good indication that we can't compete if we try and rank our location page for multiple keywords.
Continuing with the lawyer example, if the competition is high we want to only go for our main keyword in the title, like "Edmonton Disability Lawyer" instead of "Edmonton Disability & Malpractice Lawyer".  Then we would make another page for the secondary malpractice keyword.
2. Optimize your Google Business Listings
Google Business Listings are imperative to local rankings. You need a Google Business listing to be eligible for showing up in map pack results. And these map pack results dominate because they show 93% of the time for local searches. Businesses that rank in the map pack also enjoy 100% more clicks than those that don't. Studies have also shown that 16% of businesses receive more than 100 calls each month from their Google Business listing. (These are the listings that are optimized!)
In my personal experience, I've seen many local service-based businesses that generate more calls from their Google Business listing than their website. Some of the companies I've worked with get upwards of 800 calls a month from a single listing. Below is the summarized version of my Google Business listing optimization guide.
There are a lot of factors that Google looks at for determining local rankings. I'll walk you through the main ones:
Add complete and detailed listing information
Make sure your location is verified by Google, your listing won't show until you do! (56% of businesses haven't even claimed their Google Business listings).
Your business's categories should have the best fitting one as your primary category, and other applicable categories as secondary categories.
Add your products and services to your listings and add descriptions to those as well.
Use your actual business hours. Users can update your hours if they aren't accurate. Make sure you update your hours for holidays and special events too.
Manage and respond to reviews. Provide real, thoughtful responses for both good reviews and bad reviews.
Ask happy customers for Google reviews, it's a ranking factor!
Add photos of your business, your team, the office, lounges, projects, people at work, and anything that showcases you are a real business.
Add posts and COVID-19 updates to your listings.
Add your opening date, it shows in maps search results.
Improve Your Relevance to Searches
Google wants you to add detailed information to your listing so their algorithm can figure out what search terms to show your listing for. If you know what search terms you want your listing to show for, you can add those as keywords in your listing and improve your search results. You can figure out what keywords you should add to your listing by doing some keyword research. There are lots of tools that can help you with keyword research. I like the Google Ads Keyword Planner and SEMrush Keyword magic.
Keyword optimization
Once you know what keywords you would like your business to show up for, all you need to do is strategically add them to your listing. You can add these keywords in your description, categories, products, services, and posts. It's always better to use natural language than to stuff your content with keywords. If you have well-written content that can touch on your keywords and be on-topic, you're good to go.
More Google Business tips for boosting your local rankings:
Include your target city in your Google Business listing description.
Include your target city on your location page titles & descriptions.
Consider using your target keyword in your Google Business title.
Mention your city on your website's location page headlines (h1s & h2s) and within the content.
Link your Google Business listing to your location page instead of your home page (super effective).
Improve Your Prominence
In Google's eyes, your prominence is how well-known your business is. This is one of the most important ranking factors for local SEO and it works similarly to your website's authority. Google included prominence in their algorithms to help well-known businesses and landmarks in the area show up more prominently than others. Google collects prominence signals and uses algorithms to decide what results to show. If you influence these prominence signals, you can increase your local rankings.
Here's how to improve your local prominence:
Directory Citations
A directory is a website like Yellow Pages that lists your business. The information listed contains your business name, address, phone number, and often a few other details. These are called citations. There are thousands of directories you can list your business on, usually for free. Getting more citations will help you improve your prominence. Some SEOs will say that citation building is no longer useful for Local SEO, but I disagree. Getting citations is still considered a foundationally important part of establishing your local prominence and is even recommended by Google. I cover citation building in more detail later on in this guide.
Review Count And Score
The number of reviews you have and your average rating score are factored into local search rankings. Reviews are also crucial for customers. In fact, 90% of people read online reviews before purchasing from a business.
Getting more reviews and more positive ratings will improve your business's local ranking. This means that striving to get great Google reviews from your customers will actually help you get more customers. There are some great tools out there that can help you get more reviews, like this Google review link generator. Asking your customers to mention the products or services they got from you in their review will also help boost your rankings.
Information Consistency
A huge and often overlooked factor for local rankings is consistent information about your business across the web. While search engines are much better at determining this information these days, it's still a best practice to keep it consistent. Ensure you use the same format for your name address and phone number.
Verified Social Media Profiles
Having verified social media profiles is another little-known factor for ranking locally. Google knows whether your social media listings are verified, they even filed a patent that detects if your followers are fake. A real business is more likely to have real social media followers. Google's algorithms take your social media profile's validity into consideration when determining your local prominence.
Your website's authority and content
Google will crawl your website and use your authority as well as scan for keywords to help determine which results to show. Here's an example:

This is one of the top-ranking map pack results for the search term "Edmonton Disability Lawyer". There is an extra line at the bottom that says "Their website mentions disability lawyers". This is a prime example of content on a website being crawled and used to influence local search rankings. If you don't have a page on your website that uses the keyword you want to rank for, you're much less likely to get the top three rankings.
3. Add internal links to your location pages
Google crawls internal links to understand your website's structure, and to gauge the importance of each page. Google will also look at the importance of pages that link to your location page. For example, your home page is the most important page on your website, so adding a link to your location pages from the home page will provide more value than linking to these pages from a blog post or a lower-value page.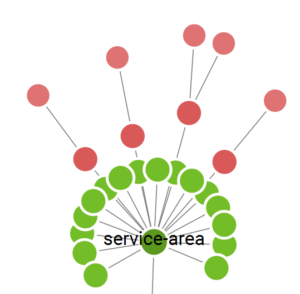 Recommended places to add internal links to location pages:
Header menu navigation
Website Footer
The home page
About us page
Contact page
Service pages
Relevant blog posts
4. Build citations for every location
Citations are listings of your business on the web that include your name, address, and phone number. Citations don't always provide a link to your website, but search engines still take these into consideration.
A study from Brightlocal, a leading local SEO software company, found that companies ranking #1 had an average of 86 citations, while companies ranking top 10 had an average of 75 citations. That's a pretty small difference between ranking #1 and ranking top 10. I recommend aiming for 100 citations per location. If you have a lot of locations, start with the highest authority sources for citations (listed below). You can start with a few citations and work on it over time. Some are better than none.
The good news is that building citations is relatively easy. Just find a directory and fill out some information to add your business to it. The bad news is that it's very time-consuming. On the bright side, there are lots of companies that offer citation building at relatively affordable rates. My personal favorite citation building company is Whitespark.
Here are a few tips to keep in mind when building your own citations:
Ensure every name, address, and phone number matches your website and Google Business listing. You need 100% accuracy for citations to make a difference.
Don't pay for individual listing sites because the best ones are free and your options are limitless.
Spend some extra effort trying to find business directories specific to your industry. Try searching Google for things like "Lawyer directory" or whatever industry you're in.
Use a few different descriptions instead of copying/pasting the same one all over the place to get an extra SEO boost.
Use a spreadsheet to keep track of listings, their status, and the login info. Otherwise, when you need to change a listing you will have to try and reclaim it which is always a hassle.
Here are some great lists of local citation sites to get you started:
5. Acquire local links for each location page
Also known as backlinks, these are links from other websites that link to your location pages. The best two types of links for local SEO are local links and industry links. Local links are links pointing to another website that is in your target city. Think local news sites, chamber of commerce, city reviews, etc. The second best is an industry-relevant link. So if you're a lawyer, you would want links from relevant places like law blogs, business sites, and finance sites. Links that aren't relevant like a lifestyle blog linking to a lawyer's site will either provide very little value or no value at all. Acquiring links from an irrelevant or sketchy source can even hurt your rankings or get you penalized.
Getting these links is a challenge, especially if you have a lot of locations. But even a few links from other sites linking directly to your location page can be the difference between your page ranking top three or not at all. I do definitely recommend you try to get a few links for each location page. The key goal here is to try and get links pointing directly to your location pages, instead of your home page. If you can get a couple of decent links pointing directly to your location page, you're going to shoot up in local search rankings.
Some tips for local link building:
Search Google for "target city + your industry" and look for search results that aren't competitors. For example "Top 10 disability lawyers in Edmonton". Try to get on these lists.
Get mentioned on local news sites. You can find example topics by searching Google for "site:domain.com +your industry". For example, if you're a disability lawyer and you want to get a link from CTV news, we would search for "site:ctvnews.ca +disability lawyer", this will show you any posts on that site with that key phrase.
Join the local chamber of commerce, they often come with other perks like networking and speaking opportunities.
Submit your website to be added to "best companies in city" lists. These sites are often happy to add your business if you explain why you should be on the list.
For industry links, try searching for things like "top (your industry) blogs". Browse the site to see if they take guest contributions that link out to other companies in your industry.
Don't buy guest posts or pay to get your post on a site to avoid penalties.
Link building the right way can be difficult and time-consuming. When I start building links I like to go on a link-building spree where I dedicate a chunk of time towards getting a few initial links. I follow that up with monthly link building, where I try to acquire a few links each month as well as check to ensure my existing links are still there. SEMrush and Ahrefs both have great link-building tools to make the job easier.
6. Have a winning about us page
Google looks at your about us page to help determine your expertise, authoritativeness and trust (EAT). Improving your about us page can lead to ranking improvements if you highlight key information about your business. A great about us page can also help improve conversion rates.
Here are some ideas for things to include to make your "About Us" page amazing:
What your company does
How long you've been in business
Your history
Locations you operate in
Industry affiliations and review websites you can be found on
Awards and certifications
Warranties, guarantees, and customer satisfaction information
Community engagement efforts like sponsorships and events you participate in
Events you have spoken at, tradeshows that you regularly attend
COVID-19 safety information
Mission, vision, values
Your team
links to case studies or before & after results
7. Create city landing pages for nearby cities and secondary keywords
City landing pages are a lot like location pages, except you don't need to have a physical location in the target city. A physical location in your target city is nice to have for city landing pages, but not necessary. A city landing page is primarily used for ranking your secondary keywords or ranking in nearby cities that you serve. This strategy is commonly used by local service businesses like plumbers and home contractors to improve their rankings in cities near them.
When to use a city landing page
Earlier in this guide, I mentioned that you want your main location pages to go for your main keywords. If you determine that you will need a separate page to rank for a different service. For example, if you're a disability lawyer but also want to rank for medical malpractice, making a city landing page for medical malpractice is the answer.
Example of a city landing page: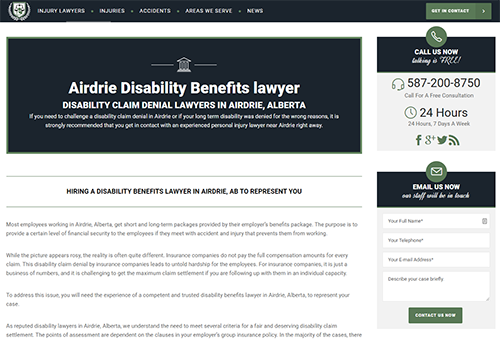 Here's an example of a nice city landing page. This is a lawyer with one office location in Calgary that is ranking #1 for the search term "Disability Lawyers Airdrie" which is a city just outside of Calgary.
Are city landing pages worth it?
The only downside to not having a physical location is it will be much more difficult to rank in the local map pack results because you won't have a Google Business listing to associate with your landing page. You also won't be able to build citations without a physical address. You can set your Google Business listing to a service area, but businesses that are actually located in your target city are much more likely to get the map pack results. This method still allows you to rank for Organic results (below ads and map pack) and will still help you get more traffic and leads from your target cities. You may be thinking of using a satellite office or registering a Google Business listing under a friend's house address just for the SEO benefits. Satellite offices for Google Business listings aren't recommended by Google and can actually hurt your rankings. Google has cracked down on fake Google Business listings lately. Some marketers have dealt with losing all their Google Business listings on their accounts just for using one fake or virtual office.
Optimizing city landing pages for local SEO rankings
Creating winning city landing pages is pretty much the same as creating a location page, except you won't always have a physical location for these. You can reference my tips on location page optimization above, or check out my full guide where I cover everything on location page optimization more in-depth. The key thing to be aware of for these pages is to avoid creating duplicate and near-duplicate content. Google is more likely to ignore your page if you just copy/paste the content and change the words around a bit for each city. You'll want to take the time to create unique content that speaks to your target keyword and target city. You should also aim to have no less than 1,500 words, pages with lots of useful content have been proven to receive higher rankings.
Other than duplicate content, the only big difference with local SEO landing pages is your internal linking strategy, which I cover below.
Getting city landing pages to rank with internal and external links
Create a Service Area page
A great way to build internal links to your city landing pages is to create a service area page that lists out all the cities you serve. Here's an example: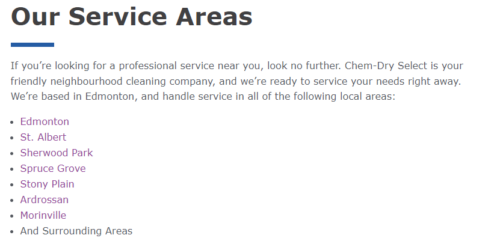 This example mentions each city they will go to and links to location pages for each city. You can also add your service area page and your location pages to your main navigation menu and footer.
Get Local backlinks for your city pages
Local links and industry links are also ideal for your city landing pages. If you can get a few links pointing to them, you're going to rank well. Some links are better than none. Even a few links can create a noticeable improvement in rankings. Check out my tips on link building earlier on this page, or read my full location page optimization guide for in-depth details.
8. Decide on your social media strategy for multiple locations
If you have separate social media profiles for all your different locations, you may be trying to decide if you should keep them or get rid of them and just stick with one social media profile for all locations. Businesses sometimes create separate social profiles for every location for the SEO boost, but it usually proves to be more of a hassle than a perk. Here's how to decide if you should keep your multiple social profiles.
How to decide if you should have a social media profile for every location of your business
If your locations have a real human actively managing your social media at that location, you're OK to keep the account going. If you're just posting the same content on every location, you're better off merging/removing all your excess profiles into one main profile. One good profile is going to provide better results than a bunch of thin profiles with 50 followers posting the same content at every location. Obviously having a real human posting unique and interesting content at every one of your locations is the best-case scenario, but this often doesn't happen due to resourcing and staffing.
If you have a few locations where they want to manage their social but the rest of your locations don't have a social media person, you can suggest that they send the posts to your main social media manager and have them post it. If you choose to have one main social account you will want to stick to your guns when people ask if they can make a location-specific social media page. Either everyone gets a page, or no one gets a page!
9. Decide on your SEO strategy for franchisees/branch managers that create their own website for their city
I've come across situations where a larger company has franchisees, branches, or chapters that go and create their own websites for their city. This is often a headache for SEO because search engines have major conflicts in deciding whether they should show your main site or your individual city site. I've seen both instances, where the main site should be getting the traffic and the subsites should die, and I've also seen instances where the main site should lay off the local SEO and let the individual locations handle it.
Should you let each location have its own website?
Ultimately it comes down to business strategy. If you do decide to let individual locations build out their own sites, you should work together on a local SEO strategy. For example, your main site may not need local landing pages. Instead of pointing your Google Business listing to your main website, point it to your individual city site. Same with citations and local links point those to your individual city site. If you're going this route, you can also link your locations on your main site to the individual city sites. You can also get your sub-sites to link back to the main site for the SEO benefits as they will be some of your strongest backlinks.
What not to do
The only thing you shouldn't do is neglect your local SEO and have no SEO coordination with your sub-sites. Put some effort towards coming up with a clear multi-location SEO strategy. Sometimes it's easier to just stick with one site, sometimes it's better to have subsites for each location. If you decide to shut down your individual location sites, be sure to set proper 301 redirects for every page instead of just redirecting the whole domain to your home page.
Bonus: Tracking before & after results for Multi-Location SEO
If you launch a local SEO project, you're going to want to track your results. Here's some key info on how to do that and what to track.
Google Analytics
Track website visits and leads from your target locations. Track referral traffic and leads from your Google Business listings.
Google Business Insights
Track how many calls you get on Google Business listings. You can also track how many discovery search impressions you get, and how many direct search impressions you get. If "Get Directions" clicks are relevant to your business, you'll find those in your Google Business insights too. I highly recommend using a tool that connects to Google's API so you can pull and store historical data. I like to use Google Data Studio with a Supermetrics integration.
Rank tracking tools
You'll want to track your local rankings to ensure your efforts are paying off. You'll also want to keep an eye on competitors. I like SEMrush's rank tracking tool. Ahrefs rank tracking is also fantastic. For local rankings, there are tools like Local Viking that can show you a geo-grid of what position your Google Business listings rank in every corner of your target cities.
Super secret bonus: Add review schema to your local pages by adding local business schema with aggregate ratings to get those little stars on your search results. This is the secret sauce. Your CTR and rankings will skyrocket if you do this properly.
Wrapping Up
In summary, if you want to get hundreds more calls and leads every month for all your locations, leverage multi-location local SEO. It's well worth the effort. Try implementing some of these tips and see how much of a difference it can make. If you have any questions, feel free to reach out to me. I love talking about SEO and will be happy to reply back to you.
Here's a summarized checklist of all the things I recommended:
Have a dedicated and optimized location page for every location
Optimize your Google Business Listings
Build internal links to your location pages
Build citations for every location
Get local links for each location
Have a winning about us page
Create city landing pages for nearby cities and secondary keywords
Decide on your social media strategy for multiple locations
Decide on your SEO strategy for franchisees/branch managers that create their own websites for their city