Looking for some easy ways to gain a competitive advantage on your Google Business Listing to improve your local rankings?
Here are a few that I've used for years, they work great!
1. Use your main keyword in your business name
We don't want to stuff our business name with keywords, Google policy actually requests you use the exact same name that you use elsewhere, but that doesn't stop SEOs. With some creativity, you can use your target keyword in your business name with ease.
Here's an example: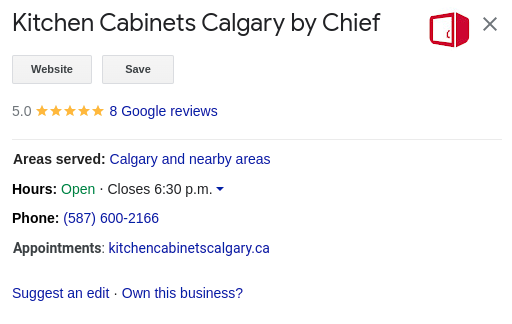 The business name is Chief Renovations, and the business listing is "Kitchen Cabinets Calgary by Chief". This company ranks pretty well locally for competitive keywords despite having only 8 reviews and a small online presence. Their domain was also an exact match domain. Another trick that helps boost your local rankings.
2. Ask customers to mention the specific product/service they purchased in reviews
Google reviews are great, get as many as you can. However, you should be asking your customers to talk about the products and services they purchased from you. Google looks at the keywords within reviews and even bolds them. Google has confirmed that reviews are a local ranking factor. Take a look at your reviews on your Google Business listing as well as your competitors to get an idea of what Google finds is relevant to searchers.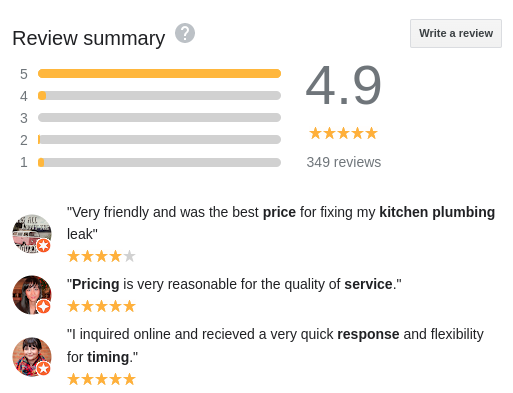 3. Use keywords in your Google Business services
Services are an often overlooked area for local businesses. Google will look at the services you offer within your Google business listings to help determine rankings. But only specific services will show in specific search results. So it's important to know how you should be wording your services.
Here's an example: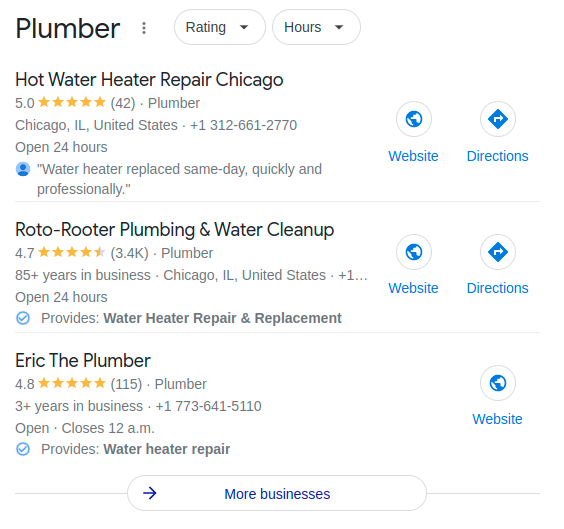 The blue checkmarks are coming from Google Business listings that have created a service with those exact names. So if you were in Chicago and wanted to rank for hot water heater repair, you should put "Water heater repair & replacement" as a service, as well as "Water heater repair".
In order to find these keywords, you should use a local search tool like isearchfrom.com to set your location and ensure you don't see personalized search results. Then type in your target keyword and look at the local three-pack / map pack/ snack pack to see which services are being used to rank for this search. Also, I noticed that the #1 result is using a keyword in their business name.
4. Use your target keyword on your website
This may seem obvious, but If you want to rank for a specific keyword you should mention it in an exact match format on your website. Either on your home page, service page, or location page. You would be surprised how many companies want to rank for certain searches and they don't even have matching content on their site to support that search.
Here's an example: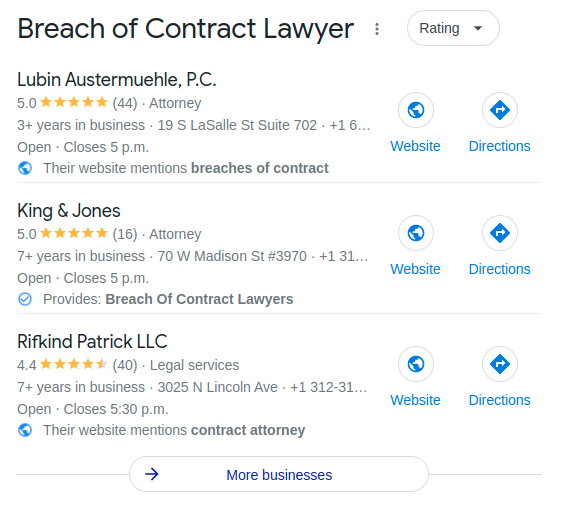 The #1 search result for the search "breach of contract lawyer Chicago" has a snippet that says "their website mentions breaches of contract". And sure enough, they have a breach of contract page on their website. Try this with other searches you're trying to rank locally for. You probably have your main keywords covered, but what about your secondary keywords?
Recap
To improve your local rankings quickly:
Change your business name to include your target keyword
Ask customers to talk about the products and services they purchased from you in reviews
Fill out your services within your Google Business listing
Mention your target and secondary keywords somewhere on your website