In this post you'll learn how to:
Plan out what service pages your site should have
Make your pages convert better
Optimize your service pages for local search
Find the best keywords to use
Get high-quality backlinks
Fully optimize your pages with technical SEO
And more!
Most service-based businesses have service pages on their website but a lot of people don't know how to properly optimize these pages to get top local rankings. I've been doing SEO for local businesses for more than 9 years. In this post, I'm going to cover all the best things I've learned about optimizing service pages for SEO.
Why optimizing your service pages for SEO is important
Service pages play an important role in your website's SEO because they will help you attract local search traffic that is already in the market for the services you sell.
Optimized service pages can generate lots of traffic and leads
Optimized service pages get top organic rankings
Service pages influence your local map pack rankings
Service pages can pre-sell people on the services you offer, making it easier to turn them into customers
Jump To
Click the links below to jump to a specific section of this page.
1. Make A Page For Every Service
Every service needs a page regardless of your site structure. You need a page that covers the details of each service you offer. From my experience, people and search engines will often think your business simply does not offer a service if it isn't mentioned on your website. Ensure each page has an easy-to-read URL like "website.com/services/service-page/".
Services you offer will show on Google map packs
If you rank for a service locally in Google's map pack, you'll enjoy over 100% more traffic than competitors who don't. Your service pages not only influence your local map pack rankings, but they can literally show on map pack results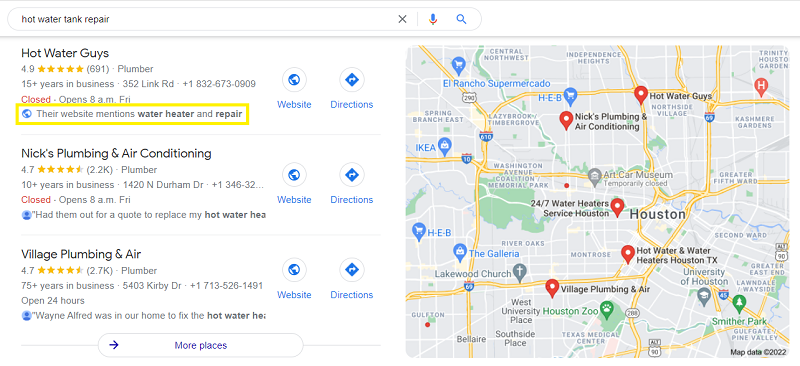 In this example, you can see the map pack result says "Their website mentions water heater and repair". Service pages improve your map pack rankings.
Your home page is a great opportunity to rank for your main service
Most local service businesses have the main service they offer and then use service pages to cover additional services they offer that are related to their main service. Your home page can be your main service page. For example, if you're a foundation repair company, you'll want to optimize your home page for foundation repair services. If you're the type of business that can use their home page for their main service, you won't need to also have a service page for that service as the home page will be dedicated to ranking for your main service.
Using your home page for your main service will also work much better than using a service page because your home page is the most powerful page on your website. Your home page has the best shot at ranking for highly competitive search terms.
2. Design For Conversions
Before we dive into SEO, I want to cover the importance of designing these pages with the goal of converting visitors into leads. Service pages are your best sales tools. You don't want your website to be a fancy brochure that doesn't generate business, so let's cover what you need to do to ensure these pages get excellent conversion rates.
Match user intent to get more leads
Most of the time your visitors have a problem or pain point they are trying to solve.
Your service page should be the answer to their problems and inspire them to take action and contact you. Your visitors should be thinking things like "this is exactly what I'm looking for!" and "these guys look like they can help me solve my problem!"
It can be difficult to get that kind of reaction from users if your page isn't optimized for conversions.
Here are things you should include in your service pages to help improve your conversion rates:
Contact form and contact info above the fold – don't make people do the work of going to your contact page
Explain the next steps – encourage your users to reach out with a call to action, and explain what will happen after they reach out
Describe their current situation and what their situation will look like after working with you
Answer common objections – talk to your team about the common objections they get for your services and handle these objections right on your page
Check your page on different devices and browsers to ensure there are no UX issues or broken elements
Include reviews of happy customers, case studies, or before & after examples
3. Explain The Features And Benefits Of Working With You
It's crucial to explain why people should work with you and not your competitor.
Your service pages should explain what you have to offer that is unique or a competitive advantage. Most businesses will just talk about how they offer a service, that they have been in business for a while and that they offer competitive pricing and great customer service. That's boring! What can you offer that gives you an upper hand? Do you have warranties or guarantees? Do you do anything that your competitors don't? Spend some time brainstorming why people should work with you and not your competitor down the road and put it into words on your website.
It doesn't even have to be unique. For example, if everyone offers a money-back guarantee but no one mentions it on their service page, it will appear as though you're the only business offering that.
Include a prominently visible section near the top of your page to highlight why people should work with you. Here's an example: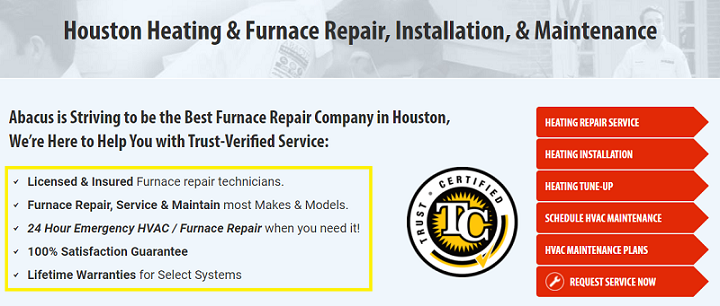 In this image, the business is listing reasons why people choose them, like their 24-hour service, 100% satisfaction guarantee, and lifetime warranty.
Got Proof?
Can you prove that you'll actually solve your visitor's problem? If so, show it off. Reviews, testimonials, and case studies are your best friends for convincing people you can solve their problems. If you don't have any proof, you can implement a strategy to start collecting proof. You can also reach out to previous customers for case studies, before & afters, videos, reviews, and any other proof you can get.
4. Optimize For Local Searches
Perhaps your business has multiple physical locations or a service area that stretches beyond your city. If you want to rank in multiple locations, you should first optimize your service pages. Then work on location pages, and then local landing pages. This guide covers service pages. My other guide on multi-location local SEO covers location pages and local landing pages.
Your service pages should be optimized for your main city. If all cities you operate in are equally important, save your local city optimization for location pages and local landing pages.
To optimize your service page for local searches, there are several places where you should mention your target city:
Title tags
Meta descriptions
Page titles (H1)
Subheadings (h2s)
Within content
You should aim to mention your target city within your content a few times and customize the content for your area. For example, if you do flood damage restoration and you live in a city that floods every year, talk about how your city has a flooding problem and you're the solution.
5. Plan Your Target Keywords And Keyword Usage
Finding the right keywords to include in your content is crucial to improving rankings. It's also important to use natural language instead of stuffing your pages with keywords. Overusing keywords can hurt rankings, while not using enough can result in no rankings at all. Something I've learned with keywords is it's better to use a variety of similar keywords instead of repeating the same one over and over. To find the best keyword variations, you just need to do some keyword research.
keyword research tools
My favorite tools for keyword research are SEMrush Keyword Magic and Ahrefs keyword explorer. Both are paid tools. I also love Google Keyword Planner because it's free (if you have an ad account) and it gives you the option to narrow your search results by city, which is great for finding local keywords.
A totally free tool I also use frequently is AnswerThePublic. It is great for finding all the things people search for but doesn't provide search volume. You can download a list of keywords from AnswerThePublic and upload the list to your favorite keyword research tool to find the average search volume.
An important thing to keep in mind for search volume is that keyword research tools typically only get accurate search volume for commercial searches and can't anticipate all the variations people will use. If your keyword research tool says a keyword gets 100 searches per month, there are probably many similar keywords that also get plenty of search volume. If you have a page on your website that ranks really well and gets lots of traffic you can look at Google Search Console to see thousands of search variations people will use to find the same page. Each of those search terms are keywords that a keyword research tool would try to find the individual search volume for. So don't be discouraged if you see low search volume in your keyword research tools, it's just the tip of the iceberg.
Competitor research
Your competitors' websites are also a great place to look to find great keywords. If you search for your competitor's domain in Google like this: "site:mycompetitor.com" it will pull up all the pages on your competitor's website and show you the titles and descriptions they are using. You can also check out their pages and note which keywords they are using. I recommend using a tool like isearchfrom, which will show you un-personalized results in a target location, and then reviewing the top three websites that show up for a search result. Here's an example:
Step 1: Target keyword in target location via isearchfrom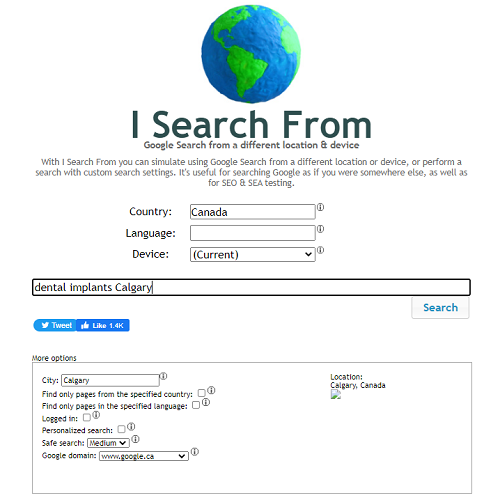 Step 2: Top 3 map packs and organic results = best competitors to research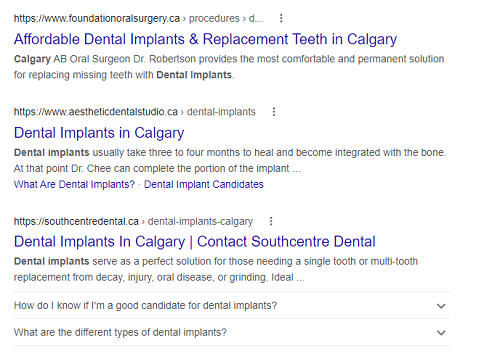 Step 3: Search site:competitor.com to find all their pages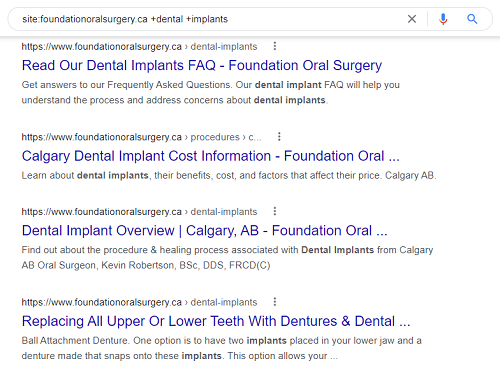 you can also search "site:competitor.com +keyword"
Google will rank these results based on which pages have the highest relevance and authority. So if you do a search of your competitor's domain +keywords, it will show their highest-ranking pages for that term. Add the keywords that you find to a spreadsheet.
Step 4: Review keyword usage and take note of keywords you should use
Once you have a list of keywords to use you can validate the search volume with a keyword research tool. SEMrush and AHrefs both offer excellent competitor research tools. If you have these tools, give them a try!
Group your keywords by topic category
Once you have a big list of keywords, it's important to group them because it will make it infinitely easier to plan which pages will get which keywords. You don't want to try and rank two pages for the same keywords. So add an extra column in your keyword research spreadsheet called "category" and group all your similar keywords together. This is often best done manually as the time it takes to find and try keyword grouping solutions takes more time than just doing the work.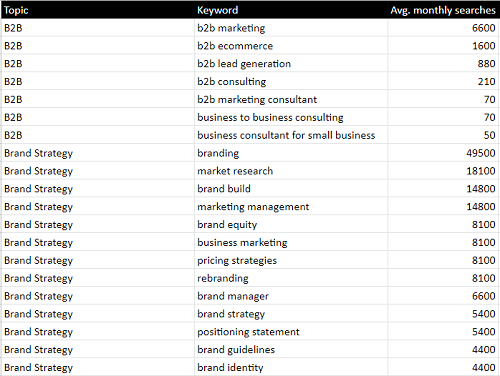 Here's an example of a keyword research sheet grouped via a category column, sorted by highest to lowest volume.
6. Optimize Your Title, Description, And Page Title (H1)
These elements are the most important parts of your page and you should include your best keywords in them. I like to go for high-volume keywords for service pages. I don't care if the tool I'm using says the keyword has a lot of competition because doing all the extra things like internal linking, link building, including lots of content, and optimizing your pages usually manages to get these pages to rank even for highly competitive searches.
Your title, meta description and page title (h1) are the places where you want to include your main target keywords. Here's a neat trick I learned for picking the best keywords to use.
Step 1: Use isearchfrom with your target keyword and target location (for un-personalized mobile search results)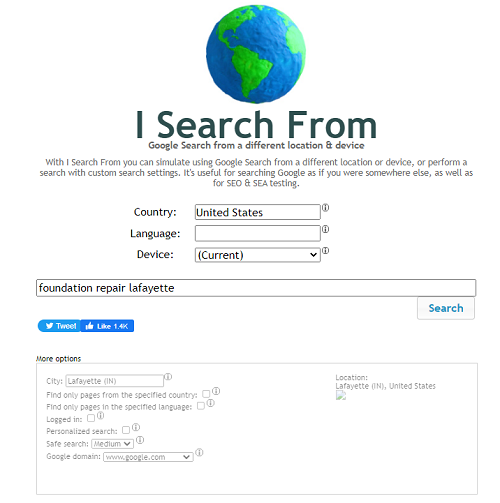 Step 2: Review keyword usage within search results
This is a great way to see what's going to work. For service pages, you want to ensure that you see service pages from other businesses in these search results. If you're getting things like blog posts, tips, techniques, strategies, how-tos, or anything that isn't a commercial service, your keyword probably isn't a good fit for your title. If that happens, make a note of that search term as you can use it for a future blog post.
Once you find a good service search term you want to figure out how to word it. For example, you may want to try and use multiple keywords in one title. If all of your top-ranking competitors are just going for one keyword, then the competition is high and you should stick with one keyword. If you see two or more keywords in the top three results you can likely do the same.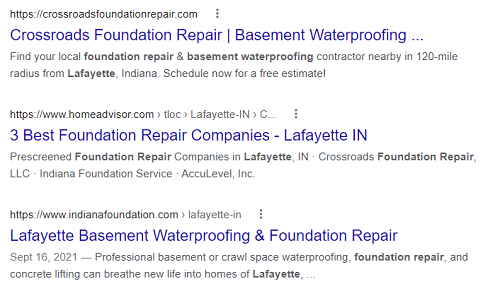 In this example, the top-ranking search results are using foundation repair and basement waterproofing in their title tags. This is a great indicator that I can also use both keywords. It makes sense for this type of service because foundation repair and waterproofing go hand-in-hand, but this won't always be the case for every business and service.
Check for the city in search result titles
If you're seeing a city in search result titles like "Foundation Repair Lafayette", you're going to need to include your city name in your title tag if you want to rank well.
Make your title and description stand out
Google will often change your title tags these days, but it's still valuable to create custom title tags. I like to do an extra step where I try to make my title tag stand out more than the other guys. If you make your title and description stand out you'll get more clicks and Google's RankBrain algorithm will improve our rankings as a result. Title tags shouldn't exceed 60 characters or they will get cut off in search results. Meta descriptions can be up to 158 characters. Try to fit something extra in your title and description if you have room. Here are some ideas:
Top rated
Expert
100% guarantee
Lifetime warranty
Free estimates
Same-day service
Increase CTR by crafting winning meta descriptions
Meta descriptions also get changed around by Google often but that shouldn't deter you from writing decent descriptions for service pages. Meta descriptions won't directly improve rankings but they can influence click-through rates (CTR). Pages that get more clicks are analyzed by RankBrain and given higher rankings. So great descriptions can indirectly influence rankings. Here are some tips for writing great descriptions:
Include a call to action like "get a quote" or "call today"
use your target keyword and city
mention some selling points like features, benefits, guarantees, warranties, years in business, etc
keep it short, sweet, and to the point

Here's an example of a great description. This description mentions both target keywords, the service area, and the city, and has a call to action. It also ranks #1.
Make your page title (H1) unique
Your page title doesn't have to be exactly the same as your SEO title. You can even make your H1 longer and more robust than your SEO title. There is no character limit for H1s but try not to make your H1 so long that it makes your page look funny. Only use one H1 per page.
7. Structure Your Content Topics And Go In-Depth
Word count isn't a ranking factor. However, a recent study by Backlinko found that pages that ranked #1 had an average of 1,447 words. This is because longer pages tend to be way more in-depth and have a lot more useful information compared to small pages. Google Search Quality Raters guidelines also indicated that the highest quality pages that deserve the best rankings demonstrate a significant amount of time, effort, expertise, and talent/skill. The best way to rank #1 is to make a high-quality page that is extremely valuable to users. I recommend going in-depth and making your service pages full of valuable information.
Here's how to structure your service page content to get top rankings:
Keyword mapping
In the previous steps, I mentioned finding the best keywords through keyword research tools and competitor research as well as grouping your keywords into topics. The next step is to take a group of keywords that are on the topic of one of your services and stitch them into your service page content. To do that I like to divide my keyword list that I have categorized for a page and separate it into three groups. Main content, supplementary content, and relevant posts.
Main content
Use your main, high-volume keywords for your main content. The main content is the meat of your page and has all the valuable information. Your main content should consist of several paragraphs of information about the service you're offering, features & benefits of choosing you, the process of how your service works, and anything else that's relevant such as localized information about your city.
Supplementary content
Supplementary content is content that supports your main content. Supplementary content can include things like answers to frequently asked questions, before & afters/case studies, information on specific products or solutions you use, and other information that adds value to your service page.
Relevant posts
Relevant posts can go at the bottom of your service page and should contain blog posts or other resources that are related to your service page. This is the best place to include blog topic ideas you found from your keyword research. If you don't have posts to share, you can write them in the future and add them to your service page later. Don't link blog posts on a service page that isn't relevant. Adding these posts helps people who are still learning and not ready to take action yet. It offers the user an opportunity to stay on your site and build trust in your brand.
8. Add Relevant Images And Optimize Them
People like images. Adding relevant images to your page can improve conversion rates. Using a couple of images per page can also keep users on your page longer. Images also increase the likelihood of showing up for visual searches which are growing in popularity every year. Optimized images also make your web pages more accessible.
Here are some tips for selecting and optimizing images to get the best rankings possible:
Relevant and unique images are much better than stock photos – use real images of your company or create custom images
Use small image sizes and compress your images with an image optimization tool like Smush or Cloudflare
Customize the image title and alt text to be descriptive and include keywords where appropriate
Try lazy loading your images to improve page load speed
Use next-generation image formats like WebP
9. Optimize Your Page Load Speed And Pass Core Web Vitals Tests
Core web vitals (CWV) are a set of standards made by Google to measure the performance of web pages. CWV is part of Google's overall page experience protocols, which became a ranking factor in 2020. While CWV is fairly new, page speed isn't. Making your pages load quickly has been a priority for years. Users are impatient these days and will typically leave your page if it doesn't load within 3 seconds. For every additional second, your page takes to load your conversion rates plummet and your bounce rates skyrocket.
Here are some tips to ensure your pages load quickly and pass Core Web Vitals tests:
Leverage image compression and lazy loading for images
Leverage a CDN like Cloudflare
Leverage browser and server-side caching rules
Minify HTML/CSS/JS
Only use HTTPS and set redirect rules to force SSL
Update HTTP links & images to HTTPS
Don't use annoying popups
Use video embeds instead of uploads
The tips above are fairly technical so make sure you have a developer or technical SEO expert on hand to help you with them. To see if you're pages are going to pass Core Web Vitals you can check Page Experience within Google Search Console or enter your URL into Google PageSpeed Insights.
10. Add Internal Links
Internal links are links on your website that lead to another page on your website. To get top rankings you should ensure that your service pages are some of the most linked-to pages on your website. Internal links help search engines and users find your pages. Search engines look at a couple of factors for internal links. Namely, the importance of the page linking to your page, the number of internal links, anchor text, and relevance. Here are some great places to build internal links to your service pages:
Add links to your service pages within your header & footer
Link to all your services on your home page
Link from location pages to service pages with a "services available at this location" section
Build links to service pages via relevant blog posts
Mention services/solutions used within case studies/before & afters
11. Acquire Local Backlinks
Links from other websites that link back to you (backlinks) will always be one of the most important ranking factors. When it comes to local SEO, there is an additional benefit to acquiring links from local websites as well as industry-specific websites.
We want to ideally build links directly to each service page instead of our home page. This won't always be possible, but keep this in mind when you start working on acquiring links.
Google will look at a lot of factors to determine the importance of a link such as relevance, website authority, quality, quantity, anchor text, and referral traffic. I recommend avoiding guest posting on random blogs or any kind of link-building tactic that involves paying people to get links from their sites as this can hurt your rankings or even get your website penalized by Google.
Acquiring Local links
Local links come from local websites. For example, if you're in Plano Texas, you should strive to get some links from other websites in Plano. How do you do that?
Here are some great strategies for getting local backlinks:
Get on local news websites by submitting an interesting topic
Join the local chamber of commerce and other local business groups
Look for sponsorship and charity opportunities that will link to you from their "our sponsors" page
Submit your listing to "Best X businesses in city" type websites
Find mentions of your business on the web that don't link to your website and ask them to link to you
Buy your competitors' domains when they go out of business and forward them to yours (sneaky grey hat tactic)
Join various clubs and organizations (that provide links to member's websites)
Contribute to local businesses blogs that aren't your competitors
Add your business to local business directories
Acquiring Industry links
Industry links are slightly easier to get than local links. Industry links are relevant to your industry. Only relevant and high-authority links will make a positive impact on your rankings. If you're a home renovator, getting links from an interior design site would be relevant. But getting links from a food blog would not be relevant. Acquiring irrelevant links not only provides no value, but it can also even negatively impact your rankings or even get your website penalized for breaking Google's webmaster guidelines. Getting good industry links often requires you to create and provide content for other websites or create content that is so good people will link to it.
Here are some places to get relevant industry links from:
Well-known industry news sites that accept article submissions
Bloggers who write about a niche that includes your industry
Podcasts in your industry
Directories for your industry
Industry memberships and organizations
12. Add Service Schema
Schema markup is a way to highlight specific information within your page's code. Schema is not a ranking factor, but Google will look at a page's schema markup to help determine what a page is about. So in a way schema is an indirect ranking factor. This is the last thing you want to do to your service page. Everything else is more important. If you do everything else on this list, then it's time for schema!
There are a bunch of different types of schema, but for service pages, we want to use service schema. This is a specific category of schema markup intended to highlight important information about a company that offers a service. To add service schema you will need a developer or SEO who is familiar with schema markup as the process is fairly technical. There are apps and plugins that can make schema a little easier, but they won't be better than using an actual human who is familiar with schema markup.
Once you find someone to add schema to your website, tell them you want service schema on each of your service pages. Here is the official documentation for service schema. There are a lot of field options for service schema. You only need to add information for the fields you think are relevant. For example, there are fields for ratings, service areas, awards, logos, and special offers. Once your service schema is added to your site you can copy/paste your page URL into validator.schema.org to verify that your service schema is working properly. If it works, it should look something like this:

you want to see the service listed as one of the schemas detected and there should be 0 warnings and 0 errors. If there are any warnings or errors, the schema isn't going to work properly.
Pro tip: You can also add local business schema with aggregate rating markup to get stars showing up in search results, this can often skyrocket your CTR and improve your rankings.
BTW – You can use whatever naming convention you want for your  service pages and URLs
You don't have to call your service pages "services". For example, a dentist may prefer the term "treatments". Or maybe you like "solutions" better. Using the term services won't influence your rankings over other terms. If you choose to use different terminology for your services be sure to match your URLs with that term.
If you're a dentist who wants to use the term "treatments" instead of "services" your URL structure for these pages should look something like this: "dentist.com/treatments/root-canal/". Or if you're an energy consultant, you might use a structure like "energyconsultant.com/solutions/cost-reduction/". You get the idea.
You also don't even need to have a page for "/services/" that lists all your services. You can take /services/ or whatever term you used right out of your URL structure if you want to keep your URLs short. If you decide to not use general services list pages you should link to all your services on your home page and within your site's navigation first.
Bonus: Tracking Results For Service Page SEO
Once you do the work of improving your service pages you're going to want to track your results. Here's some key info on how to do that and what to track to ensure your efforts are paying off.
Google Analytics
Track website visits and leads from your target locations. Track referral traffic and leads from your Google Business listings. Make sure you have goal completions set up to track phone calls, emails, form fills, and anything else that you would define as a lead.
Google Business Insights
Track how many calls you get on your Google Business listings. You can also track how many discovery search impressions you get and how many direct search impressions you get. If "Get Directions" clicks are relevant to your business, you'll find those in your Google Business insights too. I highly recommend using a tool that connects to Google's API so you can pull and store historical data. I like to use Google Data Studio with a Supermetrics integration.
Rank tracking tools
You'll want to track your local rankings to ensure your efforts are paying off. You'll also want to keep an eye on competitors. I like SEMrush's rank tracking tool. Ahrefs rank tracking is also fantastic. For local rankings, there are tools like Local Viking that can show you a geo-grid of what position your Google Business listings rank in every corner of your target cities.
Wrapping up
This guide covers everything you need to do to create top-ranking lead-generating service pages. You may not be able to implement all of these recommendations, but you should try to do as many as you can. Once you get top-ranking service pages you'll be able to enjoy acquiring high-quality traffic that converts into ready-to-buy leads.
Here's a summarized list of everything you should do to optimize your service pages for SEO
Make a page for every service
Design for conversions
Explain the features & benefits of working with you
Optimize for local searches
Plan your target keywords & keyword usage
Optimize your title, description & page title (H1)
Structure your content topics & go in-depth
Add relevant images and optimize them
Optimize your page load speed and pass Core Web Vitals
Add internal links
Acquire local backlinks
Add service schema