If you're familiar with the idea of an SEO roadmap, you're probably picturing some kind of spreadsheet.
These days we have access to much better tools for planning and organizing things, like Notion.
At the time of writing, I've only been using Notion for about a year now, but I have to say that it's the best possible thing I've done in years for my SEO.
Notion makes it easy to create multiple databases, and connect different things, and look at it in different ways, which is perfect for the complexities of an SEO strategy.
Notion is the perfect tool for building SEO roadmaps, audits, content calendars, or anything else you could need for your SEO strategy.
Here are 5 reasons why I think Notion is the best tool for SEO Roadmaps:
1. Databases of connected information
Notion makes it easy to connect two things together. This is particularly useful for SEO tasks.
In my SEO roadmap template, the keyword research, clustering, and mapping views are all connected to the same database. That means if I update something in one view, it updates it for all the other views.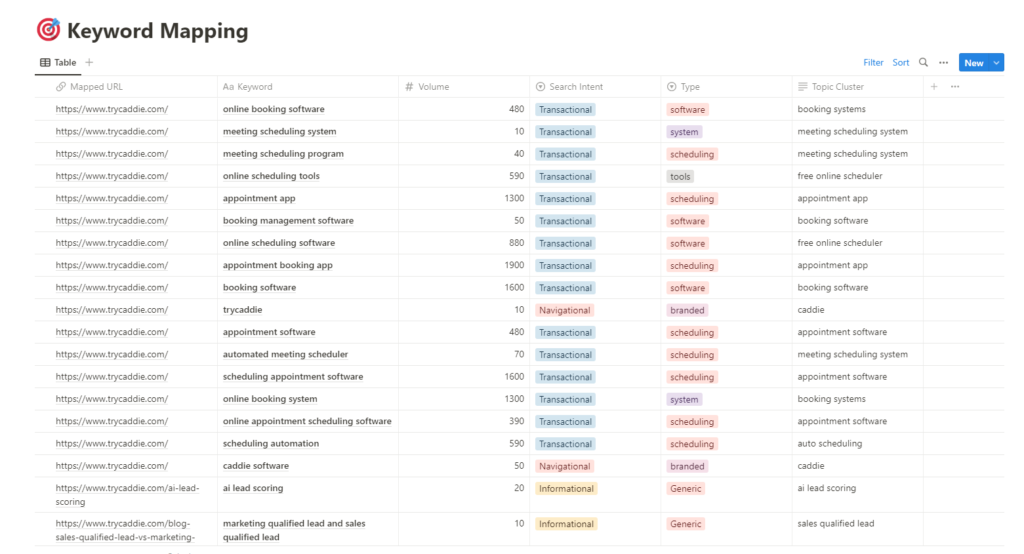 Without Notion, I would be left to coordinate between several spreadsheets and documents. It's just way easier and more convenient to build the key components of an SEO roadmap in Notion.
2. No more complex spreadsheets
Before switching to Notion, pretty much everything I made was in the form of a spreadsheet or Google doc. While these still work perfectly fine, it can be a hassle to manage spreadsheets. Especially if you're using a lot of formulas.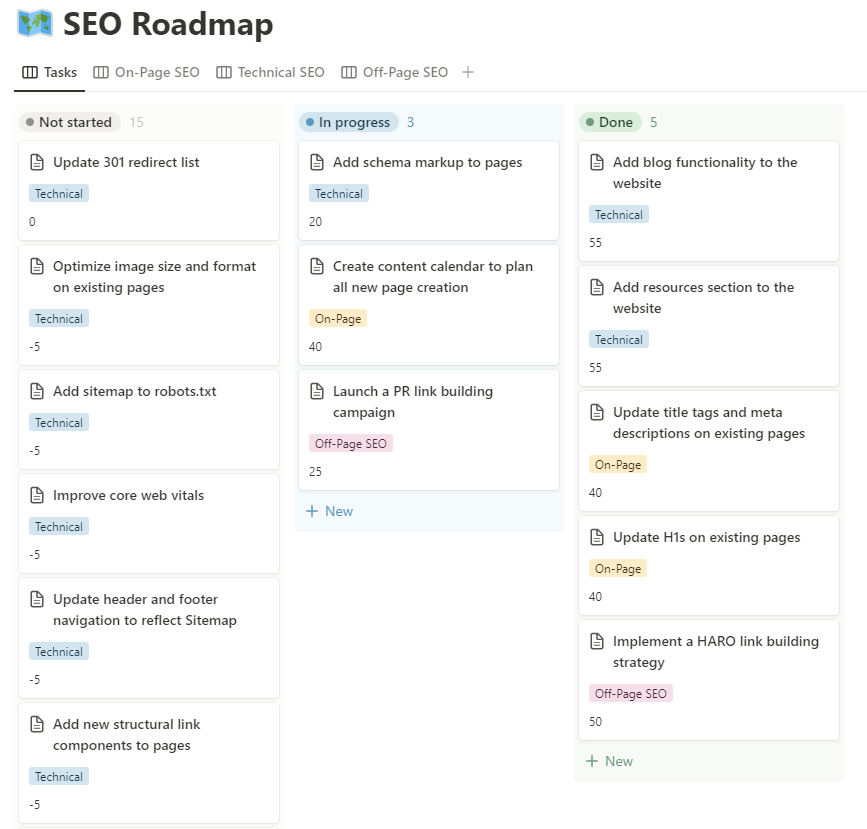 Here's an example of a Kanban board view for an SEO roadmap. You would need a project management tool, docs, and spreadsheets to do this normally. Notion does it all in one place.
While I still use spreadsheets to build out my roadmaps, I like to import data into Notion when ready. That way everything stays organized and in one place.
3. Easier for teams to adopt
While you may perfectly understand every tab and cell of your spreadsheet, it may appear overwhelming to others.
SEO requires a lot of cross-functional collaboration with marketing, product teams, and developers.
Using a Notion makes it way easier for others to quickly catch on and help you with your SEO efforts.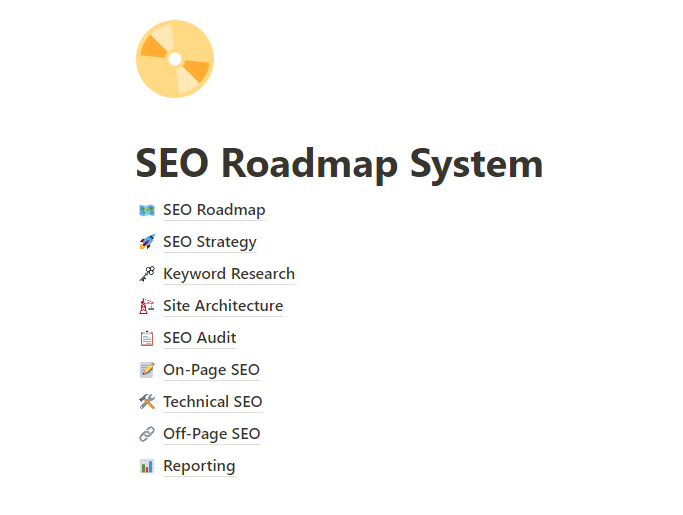 When you use a spreadsheet, everyone will forget about it. They will refer to it reluctantly because it's full of overwhelming data that doesn't make sense to them.
Not only is it way easier for multiple departments to get on board with an SEO strategy built within Notion, but It's also easy to integrate with popular tools like JIRA and ASANA, which opens the door for lots of time-saving automation.
4. Built for scalability
As your SEO strategy grows, so do all the files. It gets more difficult to manage a cluttered Google Drive of random SEO spreadsheets, documents, slideshows, and more.
Notion makes it easy to scale up and continually build your system. Instead of having a digital filing cabinet, you can create an organized operating system to streamline and prioritize efforts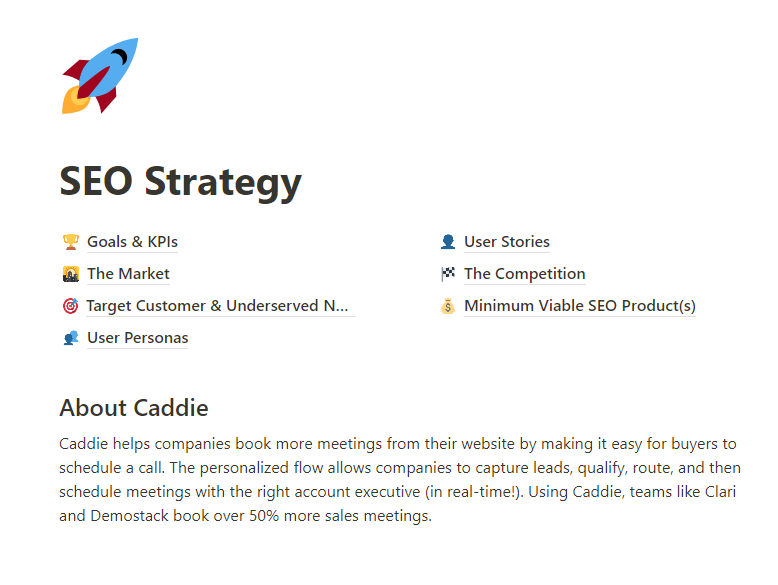 If you needed to research more keywords and create more blog topics, you would likely traverse several documents to do so, resulting in a lot more time spent entering and organizing information.
Whether you need to add more keywords, user stories, resources, or SEO audit tasks, it's all simple and easy to do in Notion.
5. Comprehensive free version
The free version of Notion is more than enough to plan and implement a solid SEO roadmap.
However, once you start using it for your daily efforts, you will likely need to upgrade at some point.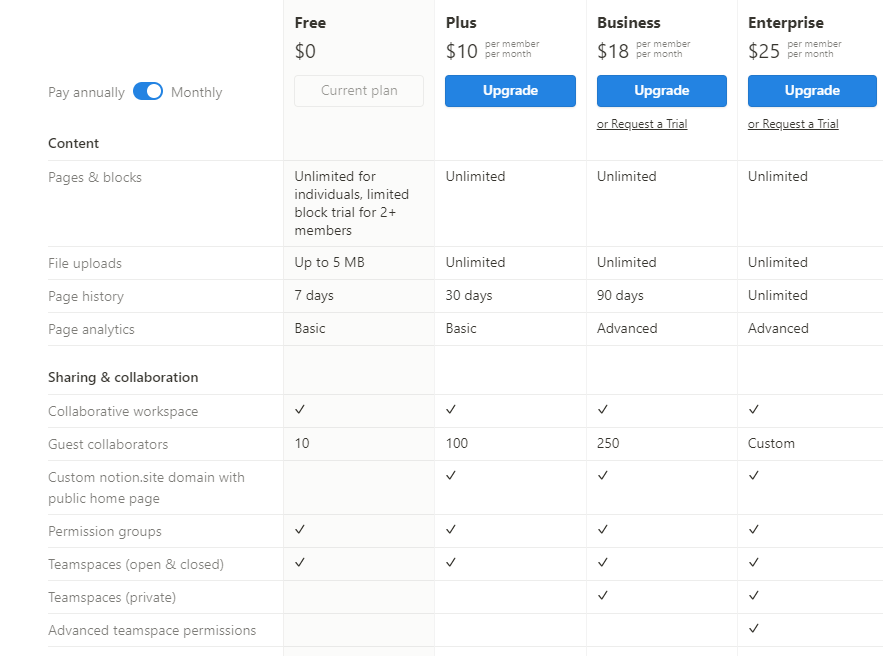 By the time you build your roadmap inside of Notion, it's easy to convince your billing department to upgrade to a paid plan if you need it.
The plans are pretty cheap. The next level up from the free version is only $10 per member per month.
Notion > Google Docs
Notion is a comprehensive platform that may seem daunting at first, but thanks to its familiarity with other tools like Asana, JIRA, spreadsheets, and docs, the learning curve is short.
Within a few weeks of using Notion, I was able to familiarize myself with most of the features and functions just by using it and learning as I go.
If you're ready to give Notion a try, simply create an account for free on the Notion website.
You can also check out my premium SEO Roadmap Notion template on Gumroad.
Once you've got the template, peruse my blog for additional resources.