TLDR: I made a Google Sheet checklist to prepare your website for SGE. Make yourself a copy!
(You will need Screaming Frog or a similar crawler to use it)
Google I/O 2023 announced Search Generative Experiences, where AI will answer queries directly on search results.
Which is why I made an SGE readiness checklist. It's a simple spreadsheet that shows what pages you can improve to maximize your visibility on generated search results.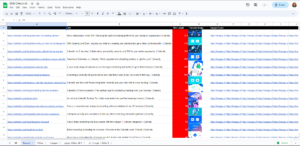 My observations of SGE results
While we are still learning how SGE is going to work, there are three key things I've noticed about the sources featured in these results:
1. The SGE snippets will often be the only clickable element within the generated result
There are definitely some results with more clickable elements, like e-commerce results linking to products, and local searches linking to businesses.
However, there are going to be plenty of SGE results where the only clickable links to websites are the featured sources.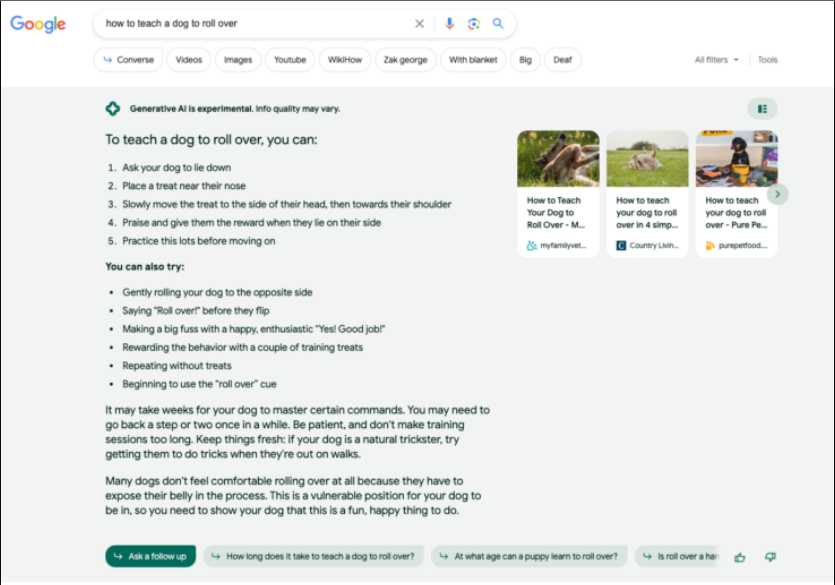 I also think that because of the horizontal layout, the CTR for the top 3 SGE results will be more evenly distributed compared to the top 3 results in regular organic search results.
2. The title tags are all under 40 characters
After 40 characters the title tags are often truncated.  Anything beyond the 40-character limit will be cut off.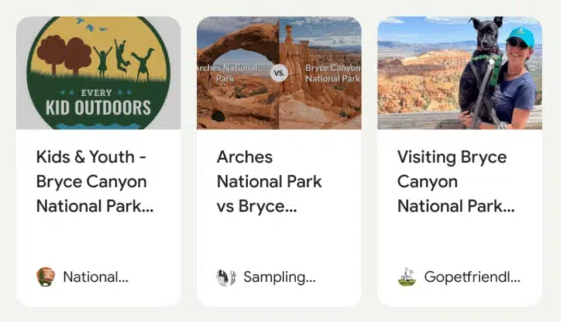 I'm also seeing instances where title tags under 30 characters are being cut off.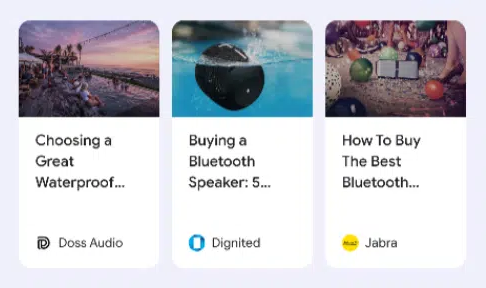 Crafting headlines that contain your target keyword within 30-40 characters is certainly a challenge, but it will be more important moving forward with SGE.
You can still have longer title tags. For example, your separator and brand name might be placed after the cutoff limit.
3. Missing images may get a lower CTR
If you don't have at lease one image on your page, your SGE result won't have one either.
That could reduce your CTR compared to sources with images.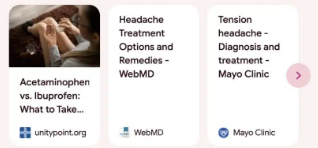 However, if you don't have any images you do get a longer title tag limit. It looks like it goes up to 55-60 characters.
Testing images will be important moving forward to get the highest CTR.
I'm not sure exactly how Google will pull the image. They will most likely just use the first in-content image found on a page.
Getting your site ready for SGE
There are three easy things you can do to ensure your pages get a high CTR in generated results:
Optimize title tags
Add at least one image
Ensure your featured image is click-worthy
Revisiting and adjusting your title tags will ensure that your keyword is placed prominently within the character limit and your page gets the clicks it deserves when your site shows up in a generated result.
Adding at least one image on each page will ensure you get an image in SGE results. You could use a tool like SEOtesting.com to track the before & after performance after making changes.
Experimenting with different image formats could also help increase CTR. YouTube thumbnails are hyper-optimized for clicks, it's a great place to look for clickable image ideas.
How the SGE checklist works
The SGE checklist shows your URL, Title tag, Title length, and featured image in one neat spreadsheet.
It allows you to quickly review which titles need work, and which pages are either missing an image or could benefit from a new image.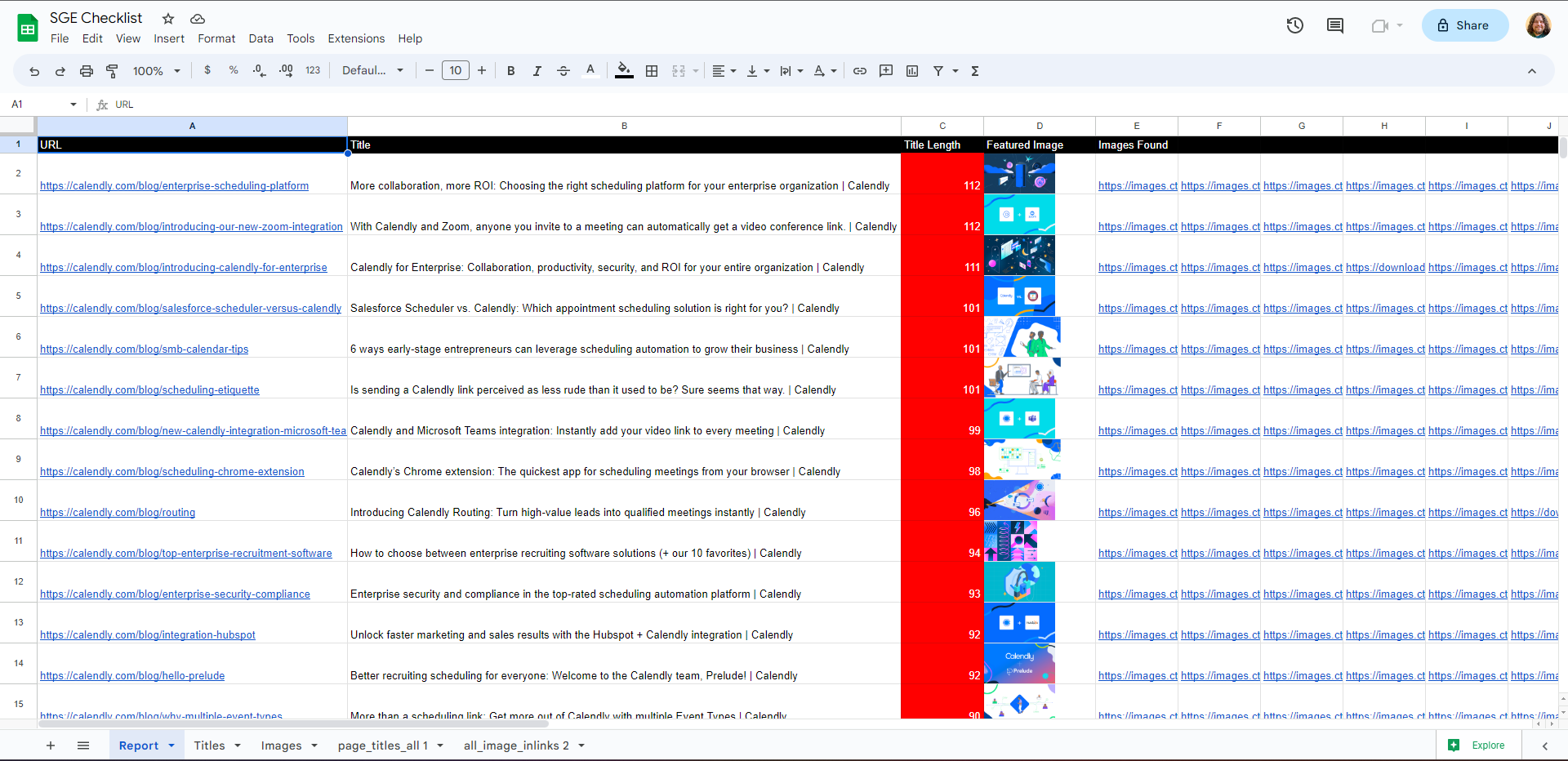 It will show you which pages have title tags over 40 characters, and a preview of the featured image.
This allows you to quickly bookmark pages for improvement. Whether you need to tweak the title tag, add an image, or improve an existing one.
To grab the SGE checklist, simply open this Google Sheet and make yourself a copy.
SGE Checklist Requirements
To use the checklist you just need the following:
A spreadsheet of all your page URLs and titles.
A spreadsheet of all your image internal links (Source URL + Media URL).
A column in the the image internal links sheet that shows the HTML link path of your image.
Both of these sheets can be acquired easily in a few minutes with Screaming Frog or a similar website crawler.
Step-by-step instructions
If  you're not using SF you'll have to modify this sheet to work with the crawler you're using.
The checklist is fairly simple and easy to use. Here's how it works:
1. Run a crawl
Enter your URL and run a crawl. It should only take a few minutes.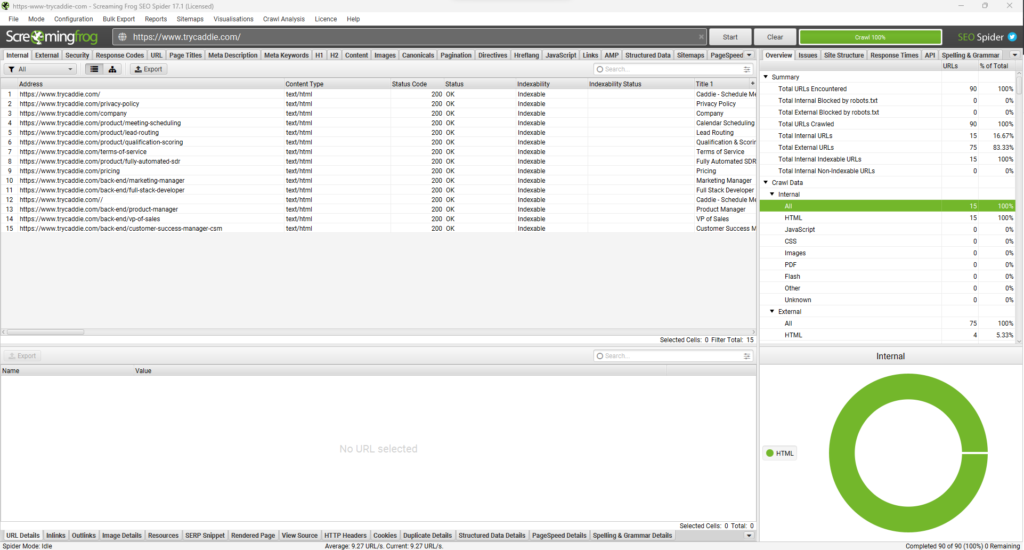 If you don't have Screaming Frog, you'll need a tool that can download all your page URLs and Titles in one sheet, and a list of all your image source and media URLs.
2. Export Titles
Navigate to the Page Titles – All tab.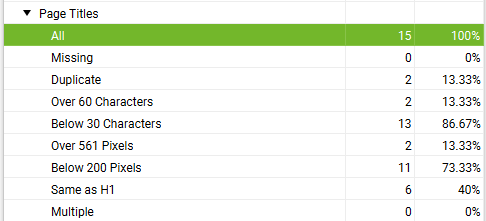 If you only want to look at one area of your site like your blog, you can filter the titles before exporting.
Just click this little filter icon on the table.

Then add a filter that matches your blog URL structure:

Then click export.

3. Export all image inlinks
Next you will need a list of your media URLS and the pages they are located on.
You can do this easily in Screaming Frog. Just click on Bulk Export > Images > All Image Inlinks.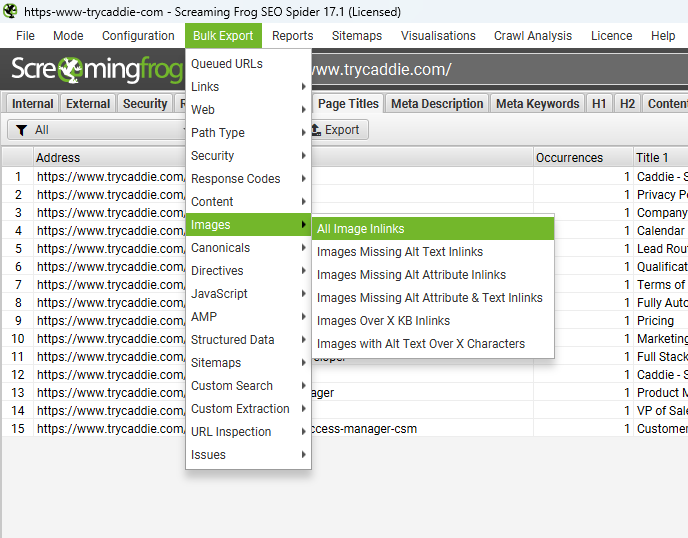 4. Import to Google Sheet tabs
Now that you have both spreadsheets, upload them into the Google Sheets as new tabs.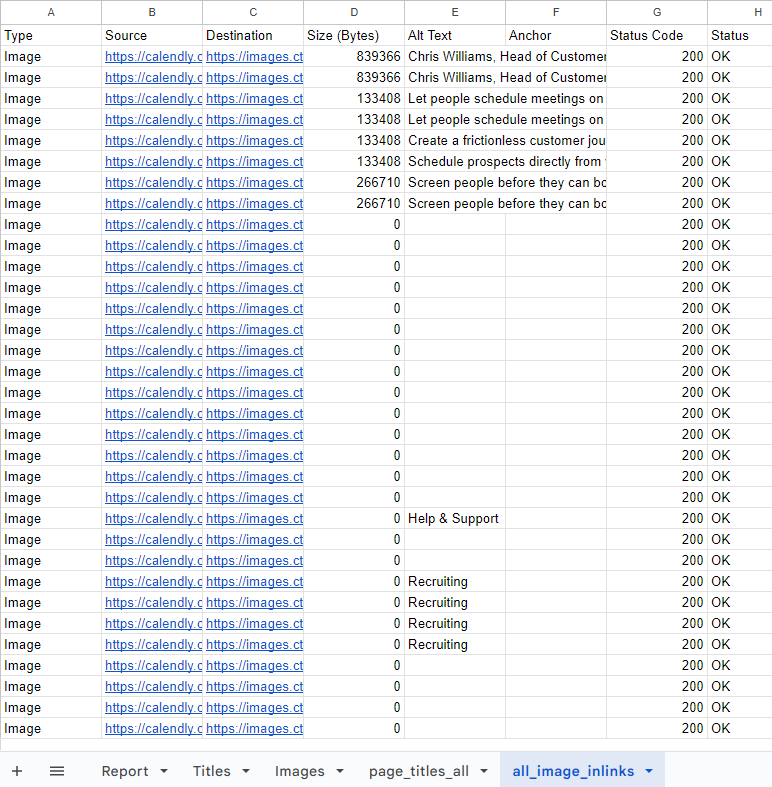 Then copy and paste your page titles data into the Titles tab.
Finally, copy and paste the image inlinks data to the Images tab.
5. Sort image link path from A-Z
Next up, you will just need to ensure the correct image shows in the Report tab.
To do this, sort the column M on the Images tab by A-Z. This will ensure that the shortest link path is used first.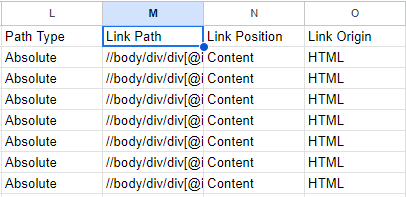 A shorter link path indicates the image is located higher up on the page.
Then navigate to the Report Tab and review. You should see the first image on your page in column D.
If you see something like an author profile image is the image, you can change the formula to show the second image found on the page.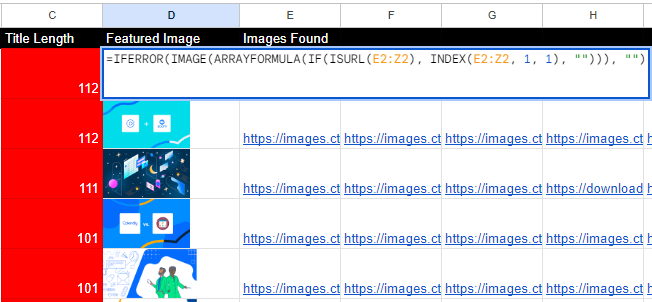 Just change this formula from a 1 to a 2. The formula will then pull the second image found on the page.
I also included other images found on the page in columns E and onward for reference.
Shorten title tags with ChatGPT
ChatGPT can speed up the process of shortening title tags.
You might need to prompt it a few times to get nice and short titles, but here is an example: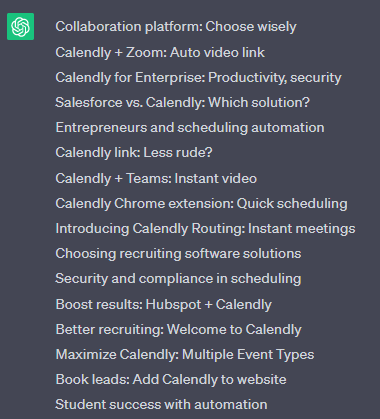 These aren't perfect and would likely require a bit of customization, but it's a good start. Here are the prompts I used to get this output:
Please remove "| Calendly" From each line (too lazy to do it in Sheets).
Please shorten each line to be under 40 characters of text including spaces, symbols, and punctuation.
Some lines are still over 40 characters. Please try shortening anything under 40 characters again.
Note that I could then add "| Calendly" to the end of my new titles to keep them consistent with other pages.
Now you try
Optimizing your title tags and images is a safe and effective way for any website to get ready for SGE.
Pages with catchy short title tags and click-worthy featured images will get the most clicks from Google's generative search results.
Here is the Checklist template sheet and a completed example of Calendly's blog for reference.
Don't hesitate to get in touch with me if you have any thoughts or questions!