Featured snippets can have a big impact on organic search traffic. That's why it's important to get them and keep them.
Today I'll show you how to use my AI-powered EEAT Featured Snippet Generator. It prints text designed to rank for featured snippets.
Plus, I'll show you my step-by-step process to find featured snippet opportunities.
Try The EEAT Featured Snippet Generator
👉 EEAT Featured Snippet Generator App 👈
How it works:
Scrapes your page
Reads the current snippet that ranks
Uses the content from your page to try to create an improved featured snippet.
The best part is that it takes EEAT into consideration.
I believe Experience, Expertise, Authoritativeness, and Trustworthiness also play a role in snippet rankings.
Here's an example of a section designed to rank for a featured snippet that I generated with my app:
What Is A Featured Snippet?
A featured snippet is a highlighted excerpt of text that appears at the top of Google search results. It provides users with a quick answer to their query.
Featured snippets are more likely to appear for informational search queries. They offer a concise and useful response, enhancing user experience and saving time.
What a featured snippet looks like: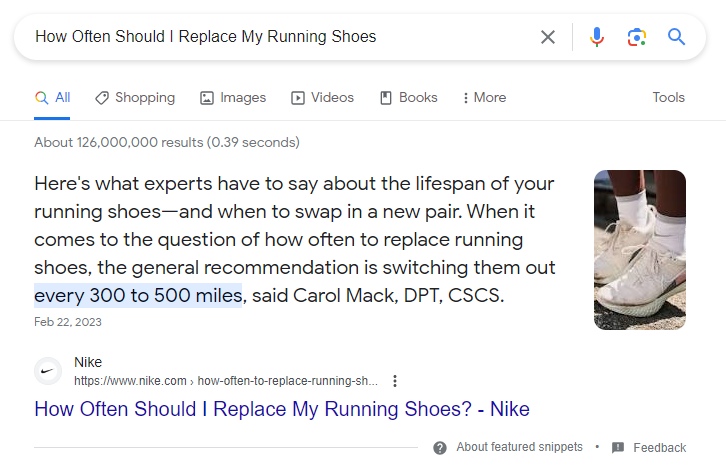 Even with SGE rolling out, featured snippets will continue to influence page traffic.
The Importance Of Featured Snippets
Featured snippets give content immediate visibility at the top of search results. You'll get higher click-through rates and increased traffic. They establish a site's authority and offer a competitive advantage.
Check out Nike's page: How Often Should I Replace My Running Shoes
This page gets twice as much traffic when it ranks for featured snippet placements.

Nike appears to gain and lose featured snippet placements on this page. That's what causes these big rectangular traffic spikes.
Now I'll show you how to identify hundreds of snippet opportunities like this one.
Step 1. Find Your Lost Featured Snippets
I'm using Ahrefs. You can do the same thing with SEMrush and similar tools.
1.1 Filter for snippets you don't rank for
Open Ahrefs Site Explorer and navigate to Organic keywords. Then enter your URL. Choose SERP features, and select "Where target doesn't rank".

Then select a comparison range. Like before the last Algorithm update.
1.2 Sort by biggest losers
Then sort by Change. We want to see the biggest losses. These pages have the most to gain. Export your list of these featured snippets.
1.3 Pull up featured snippets in Google Sheets
Next, open your exported sheet in Google Sheets. Set a filter in column M to only show featured snippets.
This will show you any keywords where you lost featured snippets. Name this tab "Lost Snippets".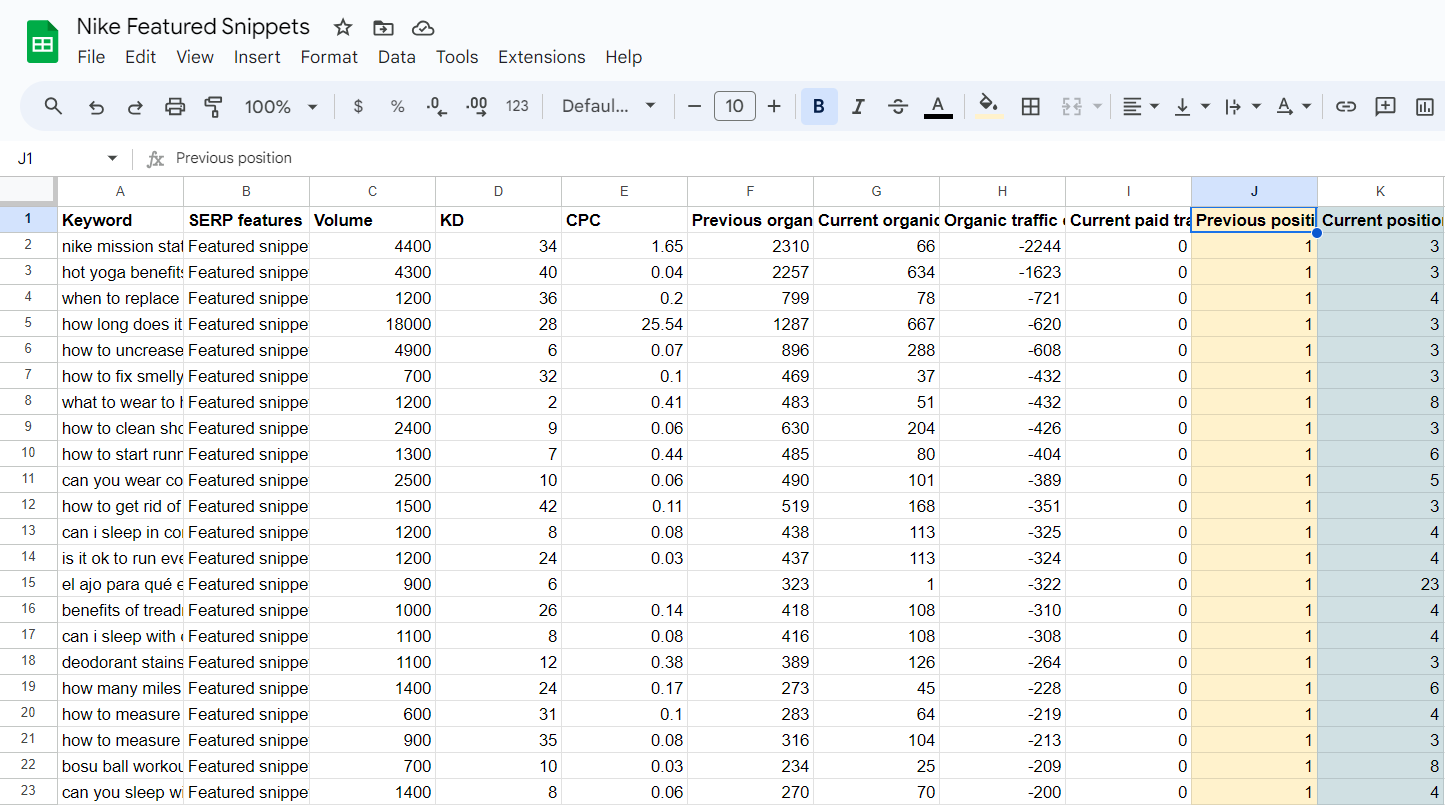 No featured snippet list is complete without new snippet opportunities.
Here's how:
Step 2: Grab New Featured Snippet Opportunities
If you rank in the top 3 for a search term that shows a featured snippet, you are eligible to overtake it.
It's not easy. You may be up against a much more authoritative site.
I'll show you how to incorporate competition in the next steps.
2.1 Find featured snippets you almost rank for
You already have a sheet with all your snippets from the previous step. You only need a few clicks to grab the new opportunities.
Duplicate your "Lost Snippets" tab and name it "New Snippet Opportunities".
Then switch the filter in column M to (Blanks) instead of (Featured Snippet).
This will show you all the new featured snippet opportunities.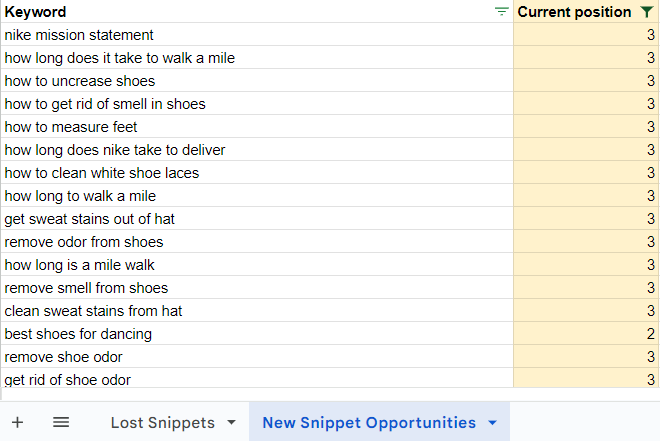 You don't currently rank for these snippets, and you didn't rank for them in the past either.
2.2 Filter to show the top 3
Finally, you want to focus on low-hanging fruit. The keywords where you already rank in the top 3 are easiest to win.
Set a filter in column K to show a value less than or equal to 3.
(If you don't have a lot of opportunities in the top 3, try the top 6.)
2.3 Competitive sorting
Sort by Current URL, Lowest KD, and Highest Volume. This shows you the easier-to-rank snippets per page.
Now you have a complete list of organized new and lost snippet opportunities.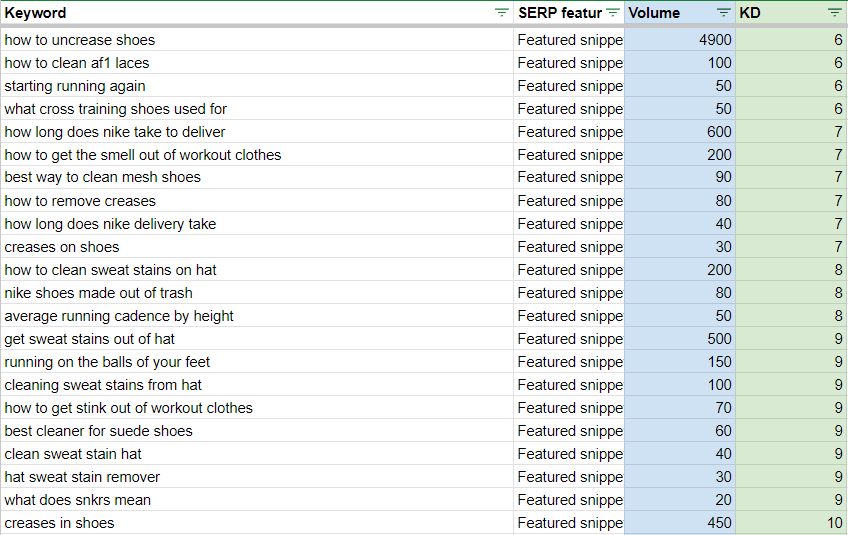 Time to optimize these pages and keywords to rank for featured snippets.
Step 3: Understand Rank-Worthy Characteristics
Did you know that featured snippets have distinct characteristics?
To rank for a featured snippet, you need a text section on your page with those characteristics.
It's called an answer target.
What's an answer target?
An answer target is a text section on your page designed to rank for a featured snippet.
They provide a short and concise answer to a searcher's query.
Answer targets are most commonly paragraphs and lists.
Income School published a detailed study on featured snippets. They operate several successful affiliate blogs and teach others how to do the same.
They coined the term "Answer Target". It's a key consideration for every page they make and they are experts at creating them.
Here are the key findings from their featured snippet study. I used these to inform the app's logic:
3.1 Characteristics of an Answer Target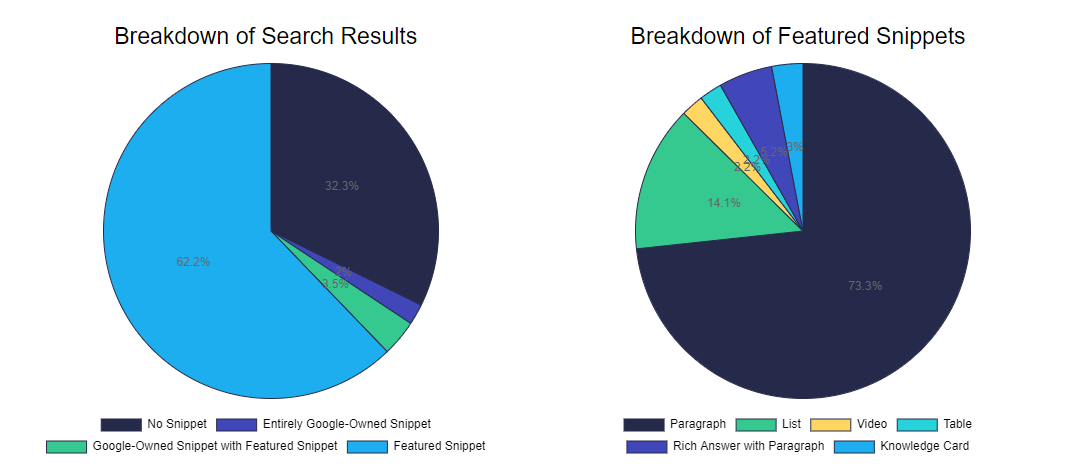 Key featured snippet stats from the study:
62% of search results show a featured snippet.
73% of snippets were paragraph text.
71% of featured snippets are in the first half of the page.
44% of featured snippets are within the first few paragraphs.
3.2 Key guidelines from the featured snippet study:
Keep paragraph-style answer targets between 200-320 characters.
Always answer the search query without requiring the reader to reference more information. Answer the question as detailed as possible in 320 characters or fewer.
The answer target should be within the first few paragraphs of the page. No lower than halfway through the article.
Make content stand-alone (avoid starting with pronouns or "yes" or "no").
Avoid a casual tone; maintain a more formal style.
Introduce the answer target with one or two preceding sentences.
That's a lot of specific characteristics and guidelines for featured snippets.
My app aims to incorporate the parameters above. With my own added bonus of emphasizing EEAT.
Step 4: Generating featured snippets with AI
Now you know how featured snippets work. You also know how to find opportunities. Time to create some answer targets with the help of AI.
4.1 Use The EEAT Featured Snippet Generator
👉 EEAT Featured Snippet Generator App 👈
This app provides insightful answer target ideas.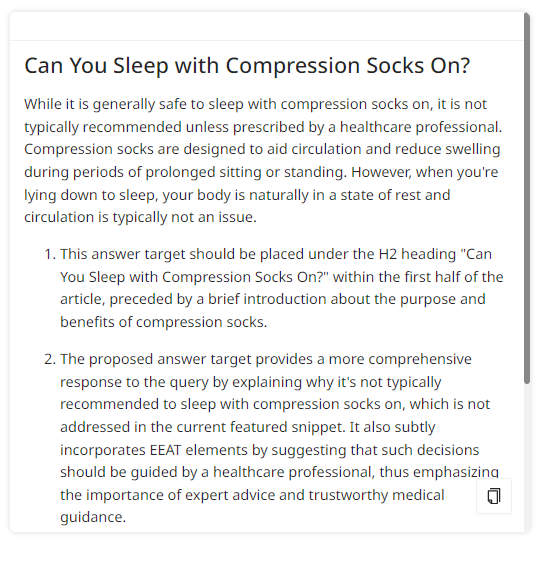 Enter your URL, copy/paste the current snippet that ranks, and enter the search query. The app generates an answer target that follows the guidelines from the study above.
It also provides placement tips and reasoning.
4.2 How I made this app 🌖
It's built with Moonlit. A no-code AI app builder.
It's free to try. You get 1,000 free credits when you sign up.

With Moonlit, you can even clone this snippet generator and make your own adjustments.
For example, setting the output to another language. 😉
Step 5: Review and upgrade your pages
Now you need to review your page and look for ways to incorporate or improve an answer target.
For example, Nike could revise their page based on the output from the prompt above: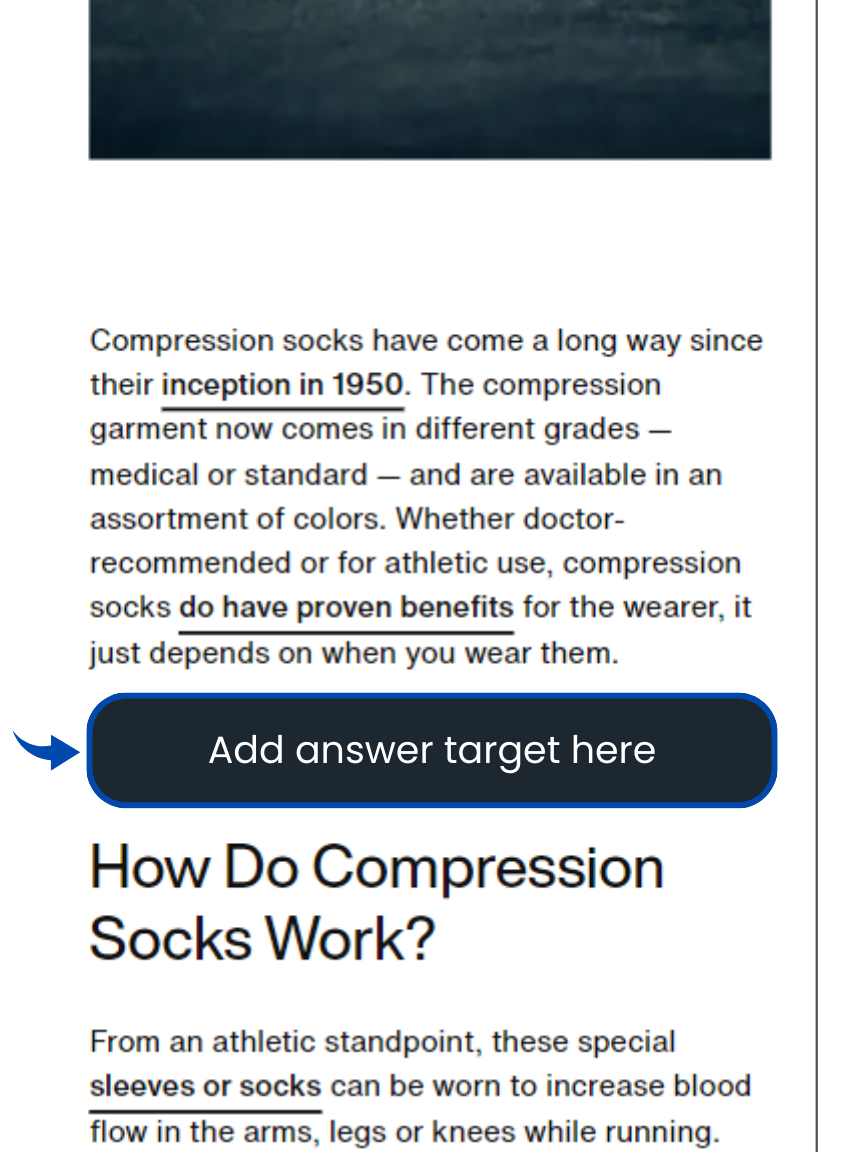 The app recommended adding a new section vs editing an existing one.
5.1 Reviewing your generated answer target results
The app aims to beat the current featured snippet using content for your page. It's not going to be 100% accurate.
Consider outputs as ideas and add your own spin on them.
Read, review, and improve them.
Fact check!
Once you find a way to incorporate an answer target on your page, rinse and repeat.
All you need to do now is track your results to see how many snippets you can get and hold on to.
Step 6: Monitor Featured Snippets
Tools like Ahrefs make it easy to keep track of your featured snippets.
Head over to the Organic keywords report in Site Explorer.
Then set the SERP features filter to: "where target ranks".

Then you can set a comparison range. For example, compare now to a date before an algorithm update.
6.1 Track biggest snippet winners
Sort by Traffic Change from highest to lowest to see your biggest winners.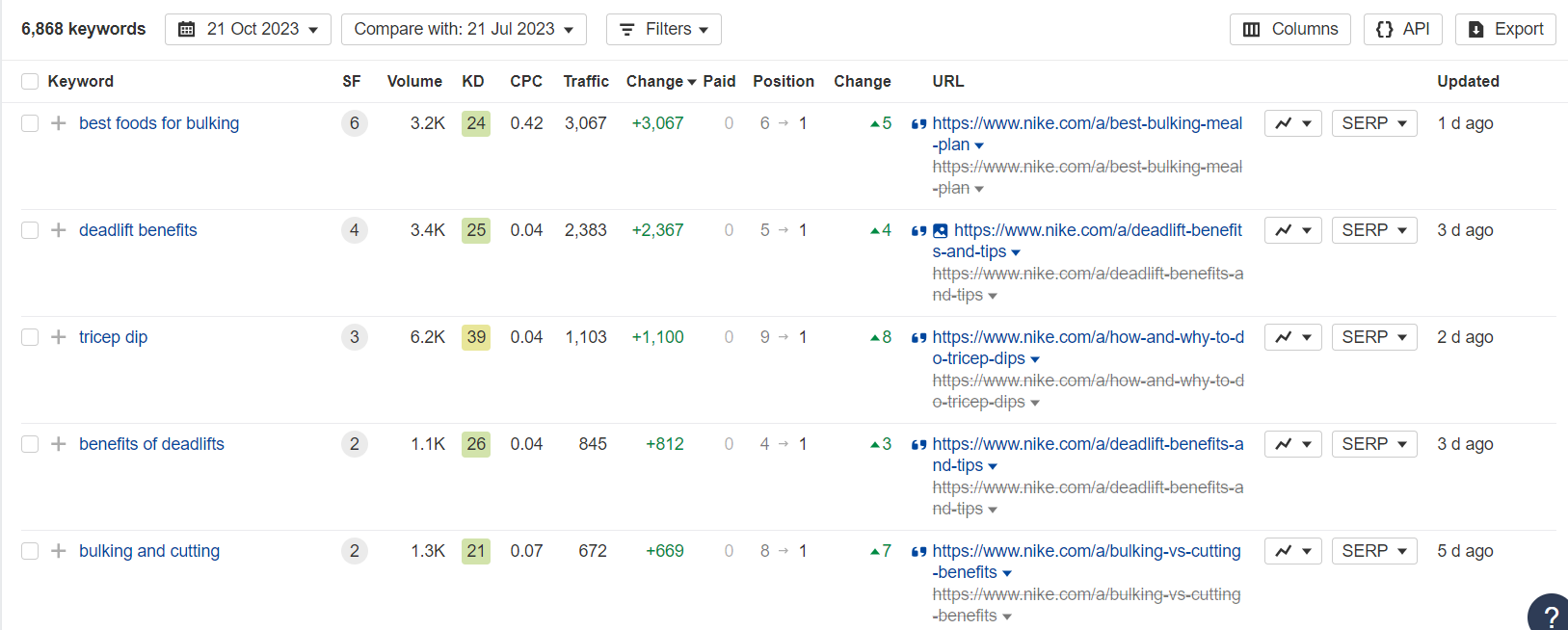 6.2 Track Recent Big Snippet Losers
Sort by Traffic Change from lowest to highest to see the biggest losers.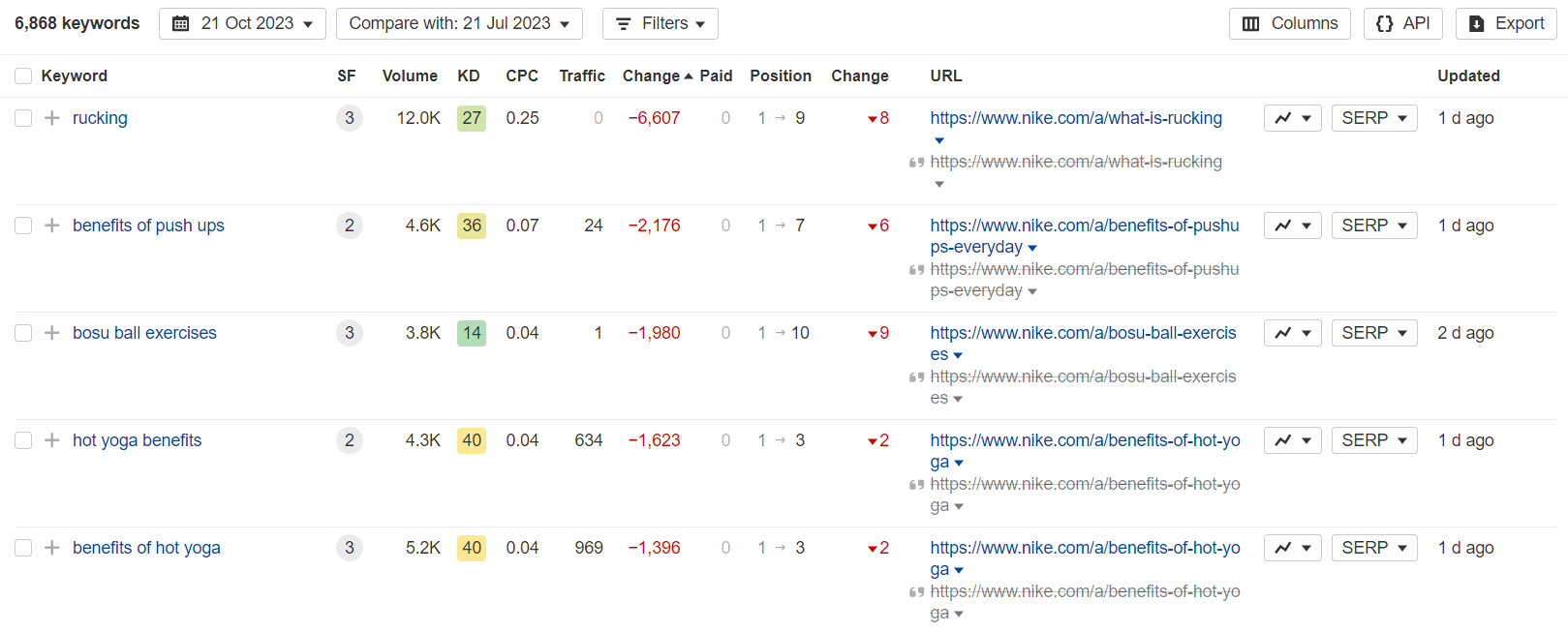 Tip: Bookmark your Ahrefs reports
You can bookmark this Ahrefs featured snippet report.
I like to make organized Ahrefs bookmark folders for each project.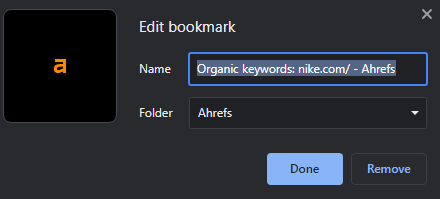 This helps me track specific sets of pages.
Win A Featured Snippet Today
With this guide, you have everything you need to find and capture featured snippets.
Here's the link to the EEAT Featured Snippet Generator App again in case you missed it.
Join The AI SEO Community
Loved this app? Join the community for more AI-powered SEO tools and resources.
You'll learn how to make your own apps just like this one. Plus you can connect with a growing group of marketers and developers who are learning AI.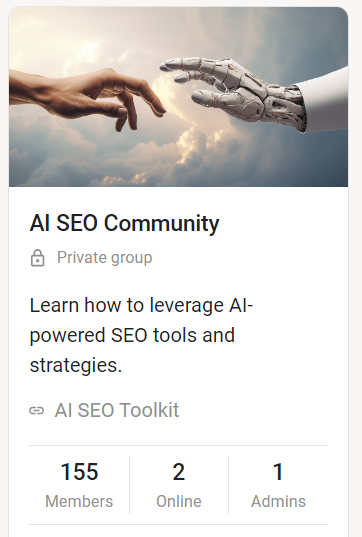 You'll also get access to tools and resources not shared anywhere else.