You've probably heard a lot about EEAT. It stands for Expertise, Authoritativeness, and Trustworthiness. This acronym is Google's way of measuring content quality to determine SEO rankings. Providing EEAT signals on your content improves user trust, reduces misinformation risk, and boosts brand reputation.
Google and many SEOs like to talk about how writers need to create reliable, user-focused, high-value content to improve EEAT. But it's easier said than done.
The problem: Adding firsthand experience, accurate in-depth expertise and authoritative insights is a challenge for writers.
Over one third of writers struggle to access subject matter experts to create content.
Most content is not written by people with first-hand experience, direct expertise, or any authority on their topic.
Most content is written by content people who specialize in writing for the web and are often working with multiple brands.
Some people have even started to find ways to fake first-hand experience or expertise. But with Perplexity AI, you won't ever need to go down that route.
The solution: The big secret is you don't actually need to have first-hand experience, direct expertise, or be a known authority on the subject you're writing for. You can fill your page with other people's experiences, expertise, and authority.
Perplexity AI Makes EEAT easy
Manually adding EEAT to content is complex and time-consuming.
Perplexity AI makes it easy to source other people's first-hand experiences, industry expertise, and authority on a subject.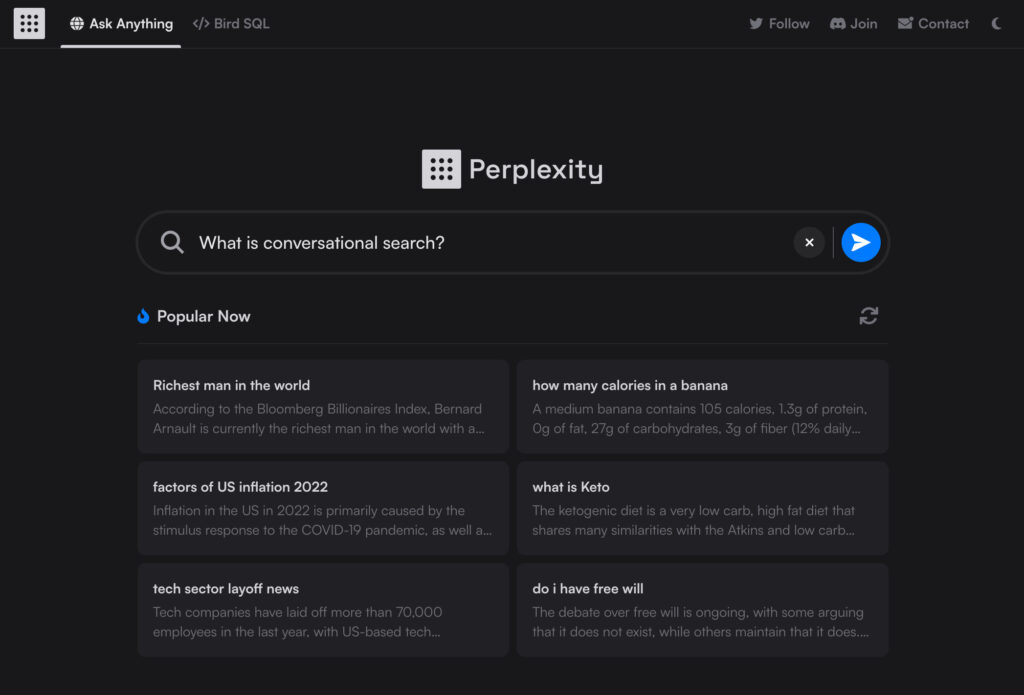 It's kind of like ChatGPT, except it quickly browses the web to provide insights and source information, which is perfect for SEO.
This tool is nothing to sneeze at. Perplexity AI is a $28m funded startup that is quickly making waves in the AI industry.
Let's jump into some use cases and examples. In my ideas below, I'm researching the new Apple Vision Pro.
9 Easy Perplexity AI Prompts for improving your SEO
Say goodbye to manual sourcing of first-hand experiences, experts, or authorities.
Perplexity browses URLs faster than GPT-4's Bing browser, returning insights instantly, and it's free!
Here are 9 EEAT prompts you can try:
1. Real first-hand experience
Prompt: "Find first-hand experiences of people who have tested the new Apple Vision Pro".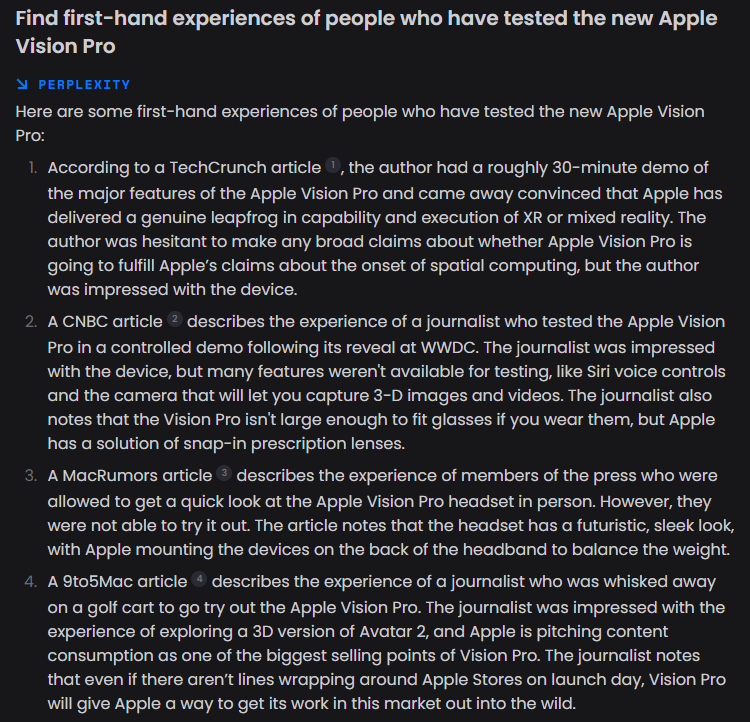 The AI provided detailed responses based on different authoritative sources. Offering a variety of perspectives about the device's features, user experience, design, and potential applications. It also links to all sources, making it easy to give credit and improve your external link usage.
2. Statistics from across the web
Prompt: "Find statistics on the use of VR headsets."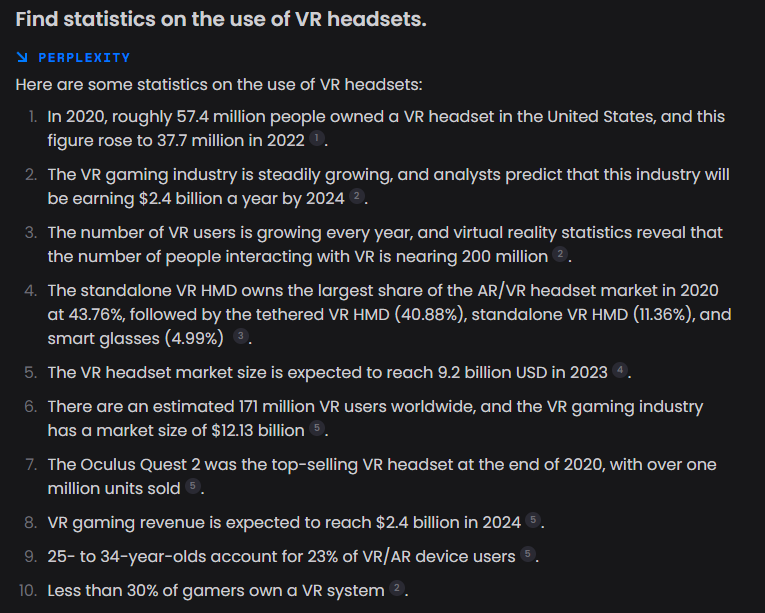 Perplexity provided responses from various sources, presenting insights on market size, user data advantages, marketing influences, product cost, design considerations, and potential market impact.
3. Unbiased Insights from leading experts
Prompt: "Find insights from leading experts on the Apple Vision Pro. Good and Bad".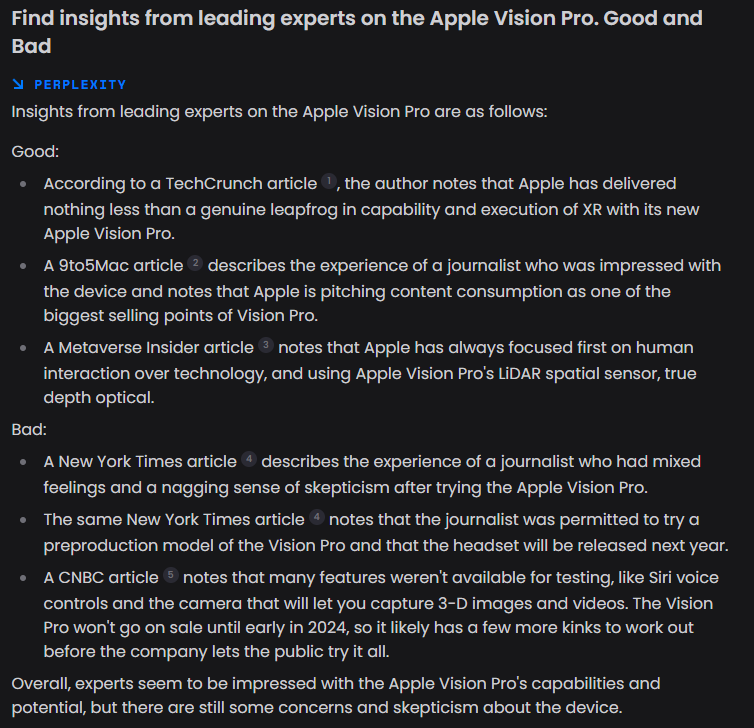 The AI sourced opinions from various outlets. I got insights from experts highlighting the device's advanced capabilities, potential for content consumption, and focus on human interaction.
I also got skepticism and concerns about unavailable features and the need for further testing before public release. Unbiased!
4. Customer opinions and feedback
Prompt: "Find customer opinions and feedback from Apple customers on the Apple Vision Pro".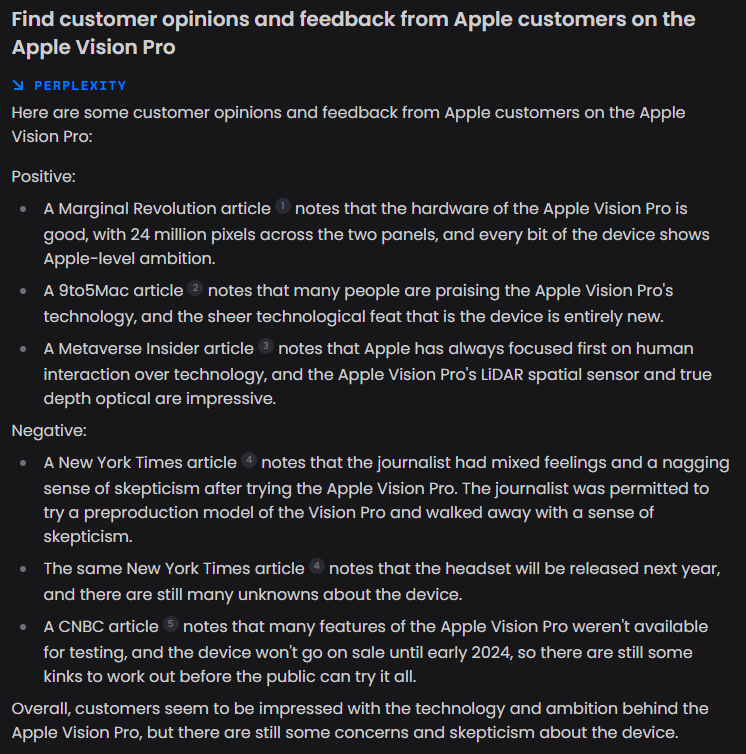 This prompt got me first-hand insights from people who had recently tried the Vision Pro and provided positive and negative experiences.
5. Authoritative perspectives
Prompt: "Find perspectives from industry leaders on the Apple Vision Pro. Good and bad.".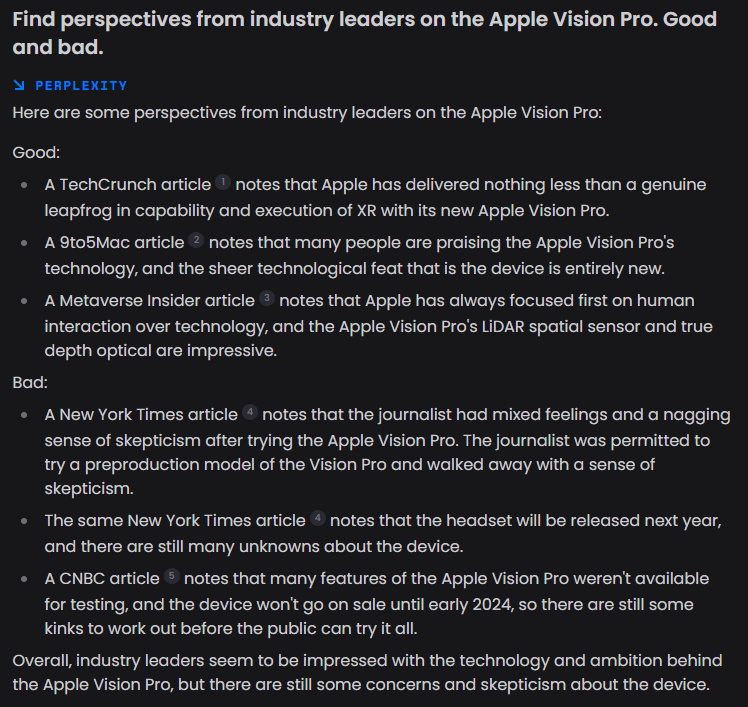 I got perspectives from industry leaders who commended the device for its technological innovation, focus on human interaction, and impressive features.
I also found concerns and skepticism about the device's readiness for market release and unavailable features.
6. Top 3 vs Bottom 7
Prompt: "What do the top 3 URLs have in common that the bottom 7 URLS do not have?".

This prompt correctly identifies that the top 3 URLs offer insights and opinions from industry experts who have experienced the Apple Vision Pro while the bottom 7 URLs mainly present general information, statistics, and pros and cons lists without the perspective of hands-on experience from industry experts. The review effectively captures the key differences between the two sets of URLs.
Note that pages with insights from industry experts are ranking higher!
7. Unique Insights
Prompt: "Provide summarized unique insights from the following URLs:".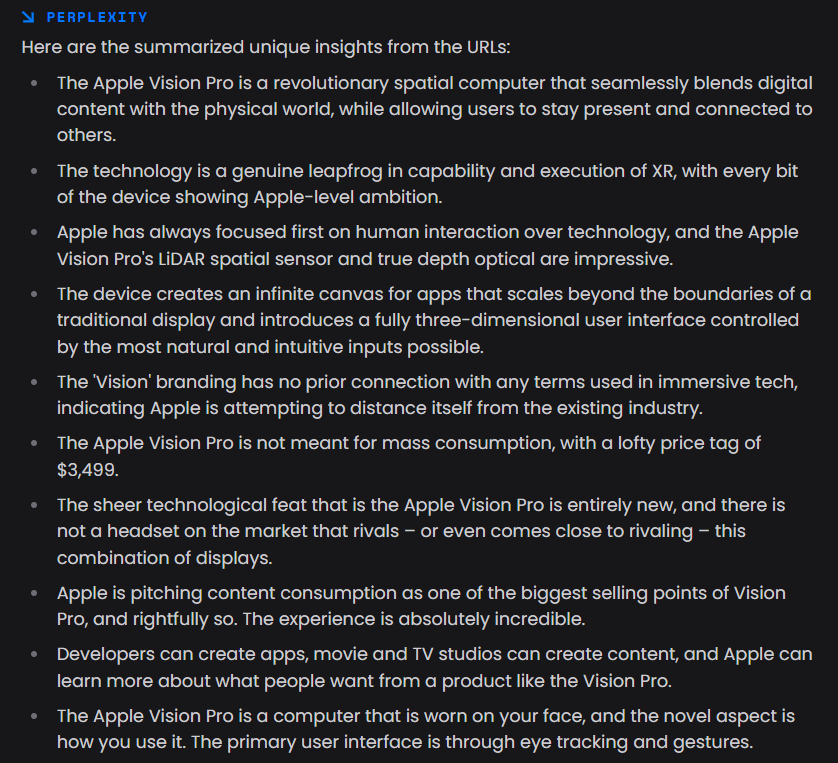 The output provided a comprehensive and well-structured heading outline that effectively combines the unique insights from the top 3 URLs about the Apple Vision Pro. The output successfully incorporates unique insights and provides a cohesive and concise outline.
8. Title tag and meta description must-haves
Prompt: "Review the title tags and meta descriptions of these URLs. list the main keywords that they have in common. List common title tag keywords and common meta description keywords:"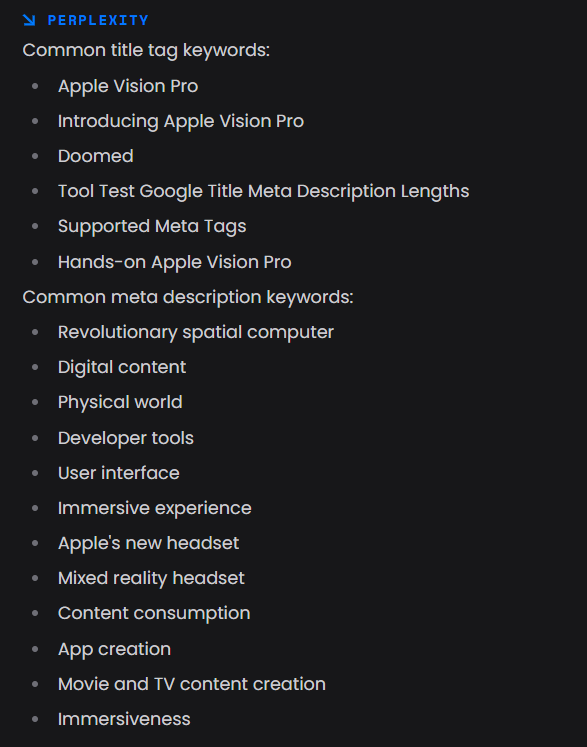 The output successfully analyzed the title tags and meta descriptions of the given URLs and identified the main keywords that they have in common.
9. Information gain
Prompt: "What is not mentioned on any of these pages but would be valuable additional information that could be added?".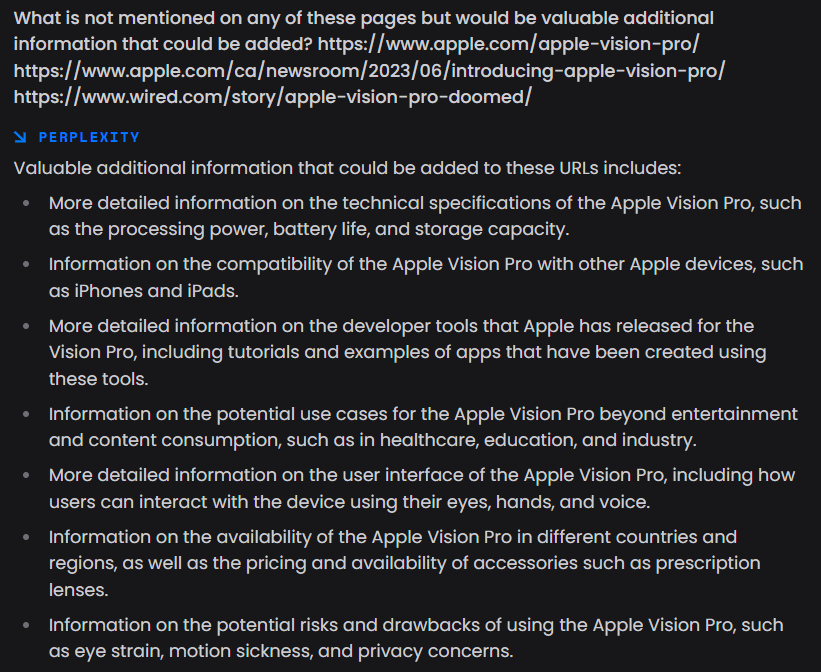 The output provided a comprehensive list of valuable additional information that could be added to the given URLs. It correctly identified various aspects that were not mentioned but would enhance the understanding and value of the Apple Vision Pro, also known as information gain. It accurately highlights areas where additional information would be beneficial to readers.
Boost your EEAT with Perplexity In Minutes
Now you know how to add EEAT to any page in the blink of an eye. Just use Perplexity.ai. It's free, fast, and exceptionally useful.
Now you can improve your writing and rankings easily and effortlessly.
Got any cool prompt ideas to add to this? Connect with me on LinkedIn and let me know your thoughts!